The girls quartet of Mia Chan, Esther Lam, Alyssa Nguyen and Susie Swan held a 3 point lead at the top of Division 4 after their results on Weekend 1.
Their opening match was against the Ellenborough club based in Enfield. Two wins from Alyssa over Azra Ekrem and Sophie Ravetto and a single from Mia against Maisha Patel put the girls 3-2 up, leaving Susie to face Ravetto in the last leg.
However, the 15 year old held her nerve admirably to land a 3-1 success.. Number one Lillington girl Esther stepped in for the second match against Chelmsford and helped her team to a 6-0 victory. Fusion of Barnet were dispatched 5-1 with Esther inflicting a comfortable 3-0 win over Jyothirmayi Ghanta who is ranked at number 22 as an England under 17.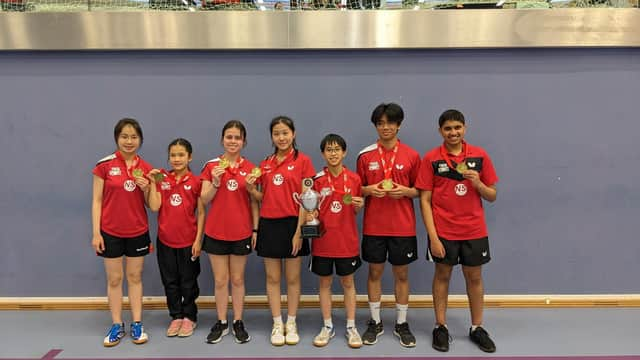 Day 2 began with a 5-1 defeat of Brighton which meant that, in the final clash with second placed Drumchapel of Glasgow, top spot was already guaranteed. No chances were taken however and the Scots were beaten 4-2 with Esther accounting for Shannon Brown and Amelia Smoralek and Alyssa beating Megan Mulhern and Brown.
Over the two weekends Esther was unbeaten, Alyssa returned a 90% average and Mia (64%) and Susie (50%) recorded very pleasing averages.
Lillington Boys trailed leaders Birmingham by one point after the first weekend and, with number one Chris Ho carrying an injury, to land the title in Division 4 would be tough. Nikit Sajiv and Rex Wong, still only 14, joined Chris and ran out 5-1 winners against Urban of Barnet. Rex beat Vairavel Ramkumar and Euan Hacking and Nikit defeated Hacking and Pablo Ramirez Rioja.
Chris chipped in with a win over Ramkumar. Greenhouse of Central London were beaten by the same score and Saturday's play was ended by a crucial 4-2 win over Mid-Ulster in which 4 legs went to 5.
Chris beat Daniel Irwin 12-10 in the 5th but lost by the same score to Tom Irwin. Rex beat Tom 11-4 in the 5th and Aedan McGivern in straight sets and Nikit got home 11-8 in the 5th against Daniel Irwin. On the final day of competition Britannia of Ipswich were swept aside 6-0 which set up a title decider against Birmingham. Lillington needed a win whilst a draw would give Birmingham top spot. Nikit inflicted the first defeat of the campaign on Chun Wai Sheung, 3-1 and also eased past Alex Cochrane.
Rex beat Cochrane and Benjamin Grieve to give Lillington the title by one point. Over the two weekends Rex was joint top of the averages, with 95%, Nikit recorded 90% and Chris 55%, a gallant effort considering his fitness issues.
Tom Brocklehurst and Chris Mulligan were the successful coaches.