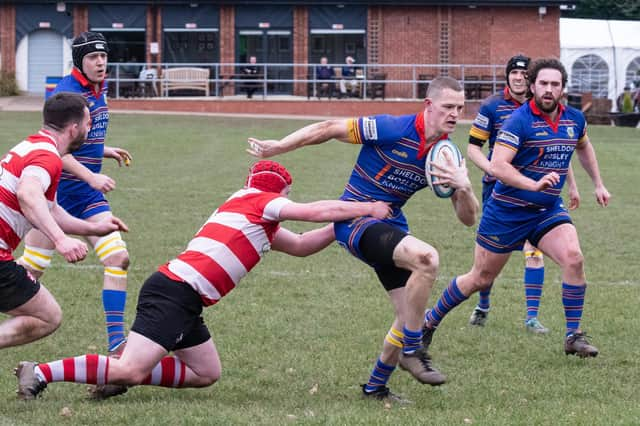 The pattern of the game was characterised in the opening seconds of play when a seemingly innocuous Earlsdon attack, in the Leamington 22 area, resulted in a "penalty try" and a yellow card.
This setback was nothing compared to what followed, as soon after, the home side lost influential Centre and play-maker, Harry Johnson, to what turned out to be a broken leg.
From this disastrous start, Leamington regained some composure with a strong run from Toby Bruce that culminated in a lineout, deep in the Earlsdon danger zone.
From this good attacking position, Leamington gained a penalty and in a flurry of activity, Gareth Shuttleworth stepped in to claim the all-important try.
Leamington continued to attack and a neat chip ahead, from Fly-Half, Brad James, was almost snapped up by Greg Atherton, on the far side wing.
The Earlsdon squad were also having a positive time on the attack, adding another a penalty. Then, in another incursion, only a try-saving tackle from Jim Reed prevented a score. They did, however, continue to press and were rewarded with a second, converted try.
The expected response from Leamington was not long coming and the home side got back on the scoresheet with a clever passage of play, leading to a Nathan Batchelor try.
Earlsdon hit the ground running at the start of the second period with a try before the home side replied with the top try of the afternoon. They secured possession at a lineout deep in their own half and an opening for winger, Jim Reed resulted.
With some 50 metres ahead of him, together with a number of Earlsdon defenders to cope with, Reed brushed aside all attempts to halt his run and powered through for a superb individual score. Brad James capped this explosive display with the conversion.
Earlsdon were able to steady their nerves with a couple of penalty goals, however, when Reed once again raced through for his second try of the afternoon, converted by James, the final minutes of the match were a tense time for the visitors.​​​​​​​​​​​​​​​​​​​​​