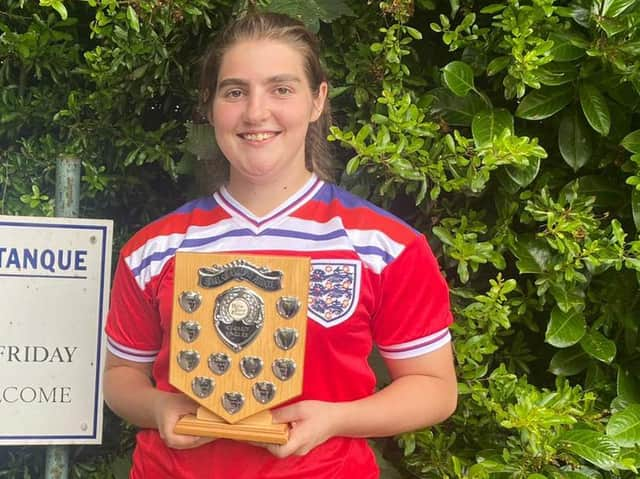 Rachel Kelly
English Ladies Singles Champion, Rachel Kelly,22, added to her victories last weekend, winning the Heart of England Regional Singles Championships hosted by Coventry Petanque Club at The Burnt Post.
With both men and ladies competing in this championship she won through to the top eight and succeeded to win the quarter finals.
After beating her clubmate Glen Woodward in the semi-finals she went on to an immaculate 13-0 victory in the final against Coventry player, Tony Thompson to become Regional Singles Champion 2021.
Whitnash's latest International Women's Day qualifiers
The previous weekend four Whitnash ladies took part in the International Women's Day regional qualifiers at Solihull in an effort to qualify to represent the Heart of England Region in the National IWD event in Heckmondwike, West Yorkshire.
Two teams from Solihull and Stockton had already qualified last year but due to Covid-19 the national event for 2020 had been cancelled and their places carried over.
That left two more places up for grabs in this Ladies' pairs competition. Hannah Griffin and Carol Woodward played well to gain the third spot, and Rachel Kelly and Ayva Law (Hannah's ten year old daughter) took the final qualifying space with Ayva surprising her fellow competitors with some great pointing, and Rachel encouraging Ayva in her first ever competition outside of the Whitnash Club.
The four Whitnash ladies covered a range of ages with one Junior, one Espoir (under 23), one Senior and one Veteran, demonstrating that petanque is a sport for all, where everyone can achieve and succeed irrespective of age.
Improvements to the Whitnash Windmill Petanque Club thanks to the Sport England Return to Play grant
The Warwickshire and West Midlands Summer League is currently halfway through its season, having played eight weekly matches, with seven more to go. Of the sixteen teams taking part, the Whitnash Club is fielding four teams of three players, and at the halfway stage all four teams feature in the top half of the table. Numbers are close though, and things could change as the season progresses but currently all teams are playing well.
Sport England grant for Return to Play
The Whitnash Windmill Petanque Club has also just been awarded a Sport England Return to Play grant for £1,800 from which they have purchased and installed barriers to divide the playing terrain into social distance areas, two gazebos and seven picnic benches. This will allow the membership to safely gather in small groups if and when Covid restrictions return, and will give the club peace of mind that we can play in a safe environment in the future. The club is extremely grateful to Sport England for this award.