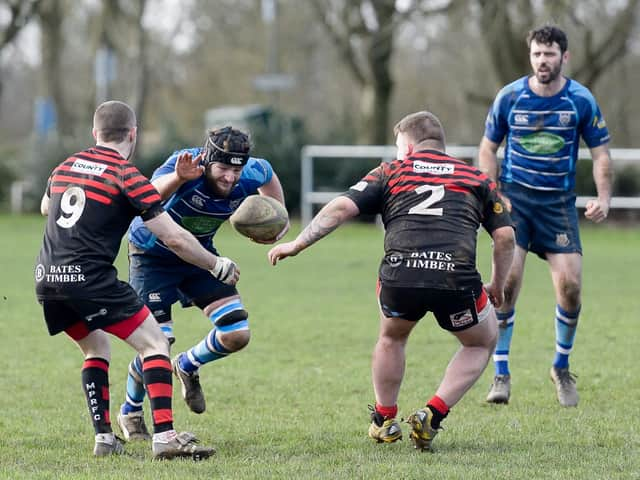 Action from Saints last home game at John Tomalin Way earlier this month when they beat Manor Park 45-7
Saints relinquished top spot in the league as hosts Old Coventrians mastered the wet and windy conditions to claim a bonus point victory to leapfrog Saints.
OC's opened the scoring after just four minutes, a break down the blind side saw them make good ground through a static defence and good support and passing resulted in them going over under the posts for a converted try.
Saints came back strongly and spent most of the half on the front foot in the opposition half but were met with a solid defensive line that they struggled to break down.
Saints usually solid pack struggled at times in the set piece with the lineouts a lottery in the windy conditions but they kept at it, running hard and making ground.
The backs at times struggled with the slippery ball but created opportunities which could have resulted in a score but for the bounce of the ball and a couple of uncharacteristic handling errors.
The Old Coventrians' defensive effort was immense with Saints camped on their line they kept tackling.
And when Saints frustrations got the better of them, they gratefully cleared their lines with big clearances to halfway.
There were no other scores in the first half and Saints knew at just a single score down the game was still there for the taking.
The hosts started the second half as they did the first, strong running and good support play allowed their replacement centre the simple chance to score a try three minutes into the half.
Saints continued to plug away, but OC's extended their lead with another clinical finish after 54 minutes.
Saints were now having to chase the game and the unenforced errors increased allowing the hosts to recover possession and clear their lines.
Injuries at the start of the final quarter disrupted Saints further with reorganisations in both the pack and the backs, the hosts claiming a fourth try and the bonus point with ten minutes of the game remaining.
Saints gave everything they had in atrocious conditions and it is worth noting that all the losses Saints have suffered this season have been on heavy rain affected pitches and in terrible weather conditions, which doesn't suit their style of play.
They will need to work on adapting to the playing conditions and there is no doubt the whole squad will pick themselves up from this result and work hard before they travel to seventh-placed Old Leamingtonians this weekend.
Saints will be looking to bounce straight back and put pressure on Old Coventrians, hopefully giving their loyal travelling support more to cheer about and hopefully in much better weather conditions.