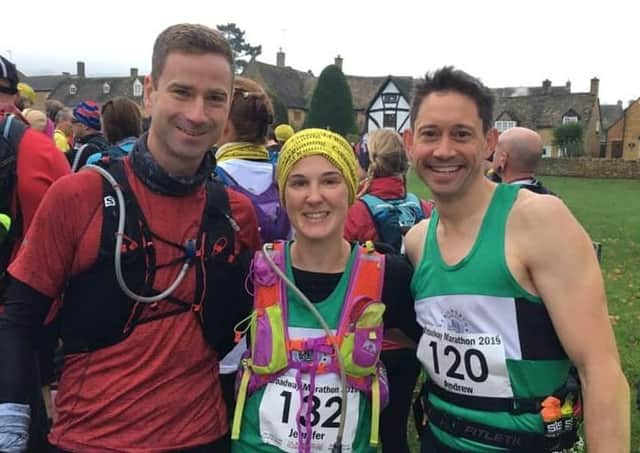 Broadway Marathon winner Andrew Siggers, right, with Elliot Cooke and Jennifer Vaughan.
Hills, stiles and gates were made even more challenging by significant rainfall in the run-up to the event.
Nevertheless, Kenilworth Runners' Andrew Siggers took it all in his stride, carving out a significant lead over his nearest rival to cross the line in a winning time of 3:25:51.
Spa Striders' Bethan Gwynn celebrated her first-ever race victory, coming home in 4:30:06.
Completing the Striders turnout were Keith Wilson (4:26:44), Jack Gammon (4:55:44), Ville Tiitola (4:57:16), Ash Hogg (5:42:05) and Paul Harris (6:13:28), with Elliot Cooke (8th in 4:12:00) and Jennifer Vaughan (8th lady in 5:03:06) running for Kenilworth.
Striders also topped the podium in the half-marathon with Chris McKeown taking the honours in 1:37:20.
Kenilworth Runners' Anthony Morgan (1:51:44) was sixth, with Rachel Miller beating her course best to come home second lady in 1:56:50.