Victory in Croatia for Southam Codemasters' rally driver Jon Armstrong
Games designer tops Junior WRC leaderboard
Codemasters DiRT Rally Team driver, Jon Armstrong has claimed his first-ever Junior WRC victory, taking a 33.5-second win on Croatia Rally's asphalt stages.
The Northern Irishman, co-driven by England's Phil Hall, beat Latvia's Mārtiņš Sesks on the 20-stage Junior WRC opener. Armstrong now tops the Junior WRC leaderboard with 27 points after picking up two stage-winning bonus points on Saturday.
Armstrong, who had only competed on three rallies since 2017, picked up a slow puncture on the final stage but still did enough to seize Croatian success.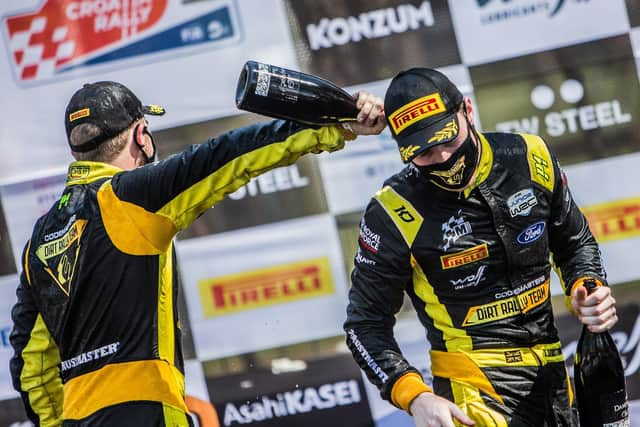 The Northern Irishman and co-driver Phil Hall now head to Portugal in May before three final rounds in Estonia, Belgium, and Spain.
Armstrong, who works for Codemasters as a game designer, and Hall, developed their partnership using Codemasters' DiRT Rally 2.0 video game. Due to COVID-19 restrictions, online sessions became how they built chemistry ahead of their first race together in Croatia. The duo's limited time inside the car meant they entered the season as underdogs, but they hit the asphalt hard from the start and never looked back.
Armstrong and Hall posted the eighth-fastest time on the opening stage and followed this with three top-three times, finishing Friday in third. Saturday saw Armstrong find his rhythm scoring two stage wins on the day's longest section – the 20.77km Stojdraga – Gornja Vas test. The team remained focused during Sunday's four stages and extended their advantage to claim their first victory in Junior WRC.
"It's great to win, but there are some fast drivers in this category, and I know I need to keep improving," said Jon Armstrong. "If I'm going to win the Championship, I need to figure out how I can go faster because I know it's going to be a big challenge. Massive thanks to everyone who got me here. I know it's been tricky and a big battle, but getting this early win proves it's all been worthwhile."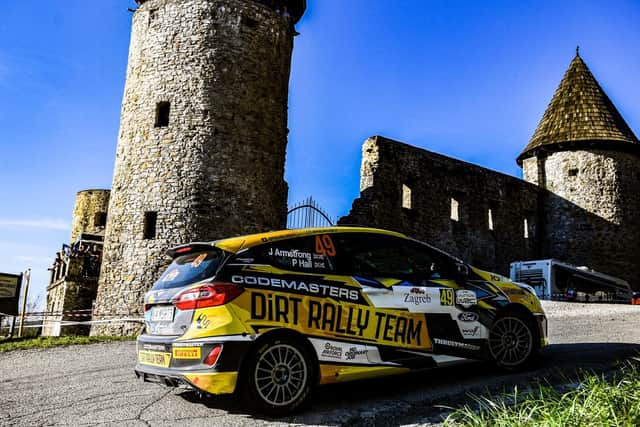 The Junior WRC is widely regarded as one of the most hotly contested series on the rally calendar. Open to drivers under 30, competitors compete in identical Ford Fiesta Rally4 cars, all supplied by M-Sport Poland, which allows for a highly competitive yet level playing field. The Junior WRC retains the WRC race weekend set-up with drivers tackling identical stages and routes set across five European locations.
"Big congratulations to Jon and Phil on their Junior WRC victory," said Ross Gowing, DiRT Rally Game Director at Codemasters. "Launching the Codemasters DiRT Rally Team has been really exciting, and it's incredible to achieve our first win in the maiden event. We're looking forward to Jon showing off his new trophy when he returns to the UK later this week."
Armstrong and Hall embarked on their Junior WRC campaign hoping to gain confidence and match the top times towards the end of the event. Croatia Rally was their first weekend together in a rally car and Armstrong's lack of seat-time meant they approached the rally as underdogs.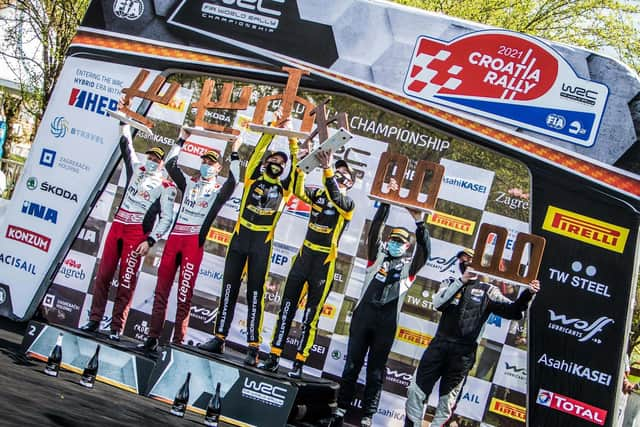 An eighth-fastest time on the opening stage was followed by three top-three JWRC times and the DiRT Rally crew eventually finished the Friday's eight stages in third.
Filled with confidence after his promising start, Armstrong found a nice rhythm on Saturday scoring two stage wins on the day's longest stage - the 20.77 km Stojdraga - Gornja Vas test.
Armstrong jumped into second position after his first stage win on Saturday morning before long-time rally leader, Martin Koči, struck a rock on Stage 14. The Slovakian had to change his wheel and lost over two minutes to the rest of the pack.
A 13-second rally lead was now in the hands of Armstrong and Hall who extended the gap to Finland's Lauri Joona to 22.5 seconds by the end of Saturday.
Armstrong remained focused on his own driving on Sunday's four stages and actually extended his advantage on the final day. Two second-fastest stage times and a cancelled stage was enough to claim his first-ever victory in Junior WRC.
After their perfect debut together, Armstrong and Hall's focus will now shift to Rally Portugal in May which is the second of five Junior WRC rounds this year.
There was praise from the FIA Junior WRC Championship Manager: "Congratulations Jon and Phil on a very mature but competitive drive," said Maciej Woda.
"Jon has been very impressive on this rally and exceeded my expectations against some very tough competition.
"He has speed, which was demonstrated by his stage wins but also is relying on his experience to get to the end of the rally which is very admirable."
Final Junior WRC Croatia Rally results:
1 Armstrong / Hall 3:15:07.6s
Junior WRC standings after Round 1: