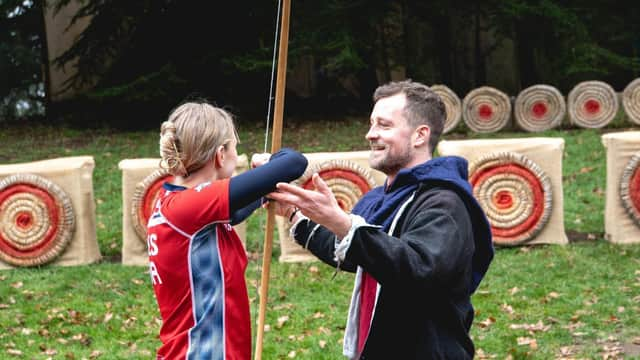 On the day, Emelia reunited with her very first archery instructor, Gareth Yearley, whilst Tom Hall pitted his modern recurve bow against the castle bowman's traditional longbow - demonstrating how the ancient art of archery has transformed into a modern sport.
The archers' visit was also a fantastic surprise for some guests, who received added top tips from Emelia and Tom as they tried their hand at Warwick Castle's Have-a-go Archery stand.
On being back at Warwick Castle and meeting Gareth, Emelia said, "It's surreal to be back here, in the spot where it all started and to meet Gareth again.
"When I saw the have-a-go archery at Warwick Castle back in 2017, I knew I wanted to try it and that first session led me to take a Beginners' Course at my local club and my love for archery has just grown from there.
"It's an exceptionally inclusive sport and it's great to see other kids and families trying archery here as well as watching the castle's bowman – hopefully they'll be inspired to take up the sport too and see how far they can go."
Now 16, Emelia is competing internationally for GB in the discipline. In 2022, she competed at the European Youth Cup in Bucharest, and the European Youth Archery Championships, which took place on home soil at Lilleshall.