Sporting life doesn't end when you reach 40 - far from it. And Wellesbourne International Racing Cyclist, 66 yr old Tim Stowe is living proof.
Tim, who is a member of Warwickshire's Team Enable cycle, started his 2 wheel competitive path by racing Motor Cross at the age of 15.
He was soon competing at the highest level, throughout the U.K., along with International events in Spain, Belgium and France.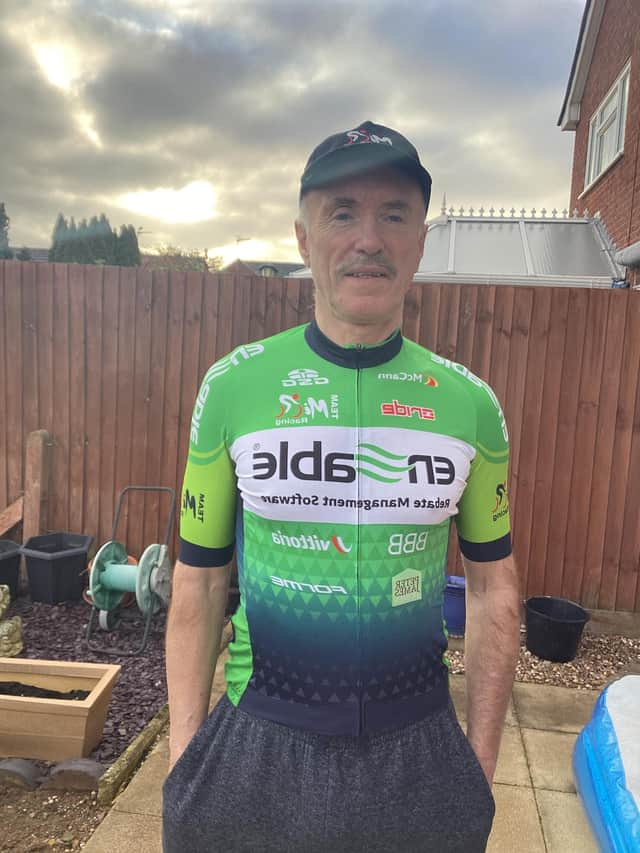 He featured in the top 35 riders in the UK. for many seasons. Before finally retiring at the age of 35.
It wasn't all easy going in the tough sport of Motocross, and like many of his competitors, Tim had some terrible accidents. Breaking bones was an accepted hazard, but each time he bounced back, for more competition.
Tim then took up Cycling, and when the Mt Bike sport in the U.K. took off in the early 90's, Tim was back racing, only this time without an engine to power him along.
Instead he had to use leg power, but his experience in Off Road riding helped and he was soon established as one of the UK's leading veteran riders, winning the first ever National Veteran Mt Bike DownHill Championship..
In 1957 Tim joined the M.I.Race Team team, owned by former professional champion and eight times World Masters cycling champion Mick Ives.
And he soon became a powerful member of the team, winning the National Cross Country Points series, the Welsh series and the Midland series. He also represented Great Britain at the World Championships , in Canada--France and Switzerland.
Soon after joining the Team Tim started racing in Cyclo Cross events, during the Winter months, and once again in a short space if time became one of the U.K.'s leading Veteran riders, winning on a regular basis , and representing Great Britain at World Championships in Belgium and the U.K. He also gained podium places in the British Championships as well as winning Regional titles.
Just like his Motor Cross days, cycle racing is not without its accidents, and he has had more than his fair share of these, and even had to have a Knee replacement after one such accident.
But like all top Sports people, Tim has bounced back and just a few weeks ago was announced the winner of the West Midland CycloCross series 2022/3 for riders 65 and over.
Last week he was off racing the early season Gorrick Mt Bike race in Surrey , where he finished fifth in the 60 plus event and won the over 65 race.
During the winter months, Tim would clock up at least 300km per week on his Bike, but in the Spring/Summer months that figure will rise to 500 km plus ..
Team boss Mick Ives said: "Tim is a brilliant example to other Sports people, that , if you are dedicated enough and healthy enough, you can still enjoy your sport, long after you reach the age of 40, and I am sure Tim will continue to have more success in the sport he loves, and will still be competing in events for many years to come "