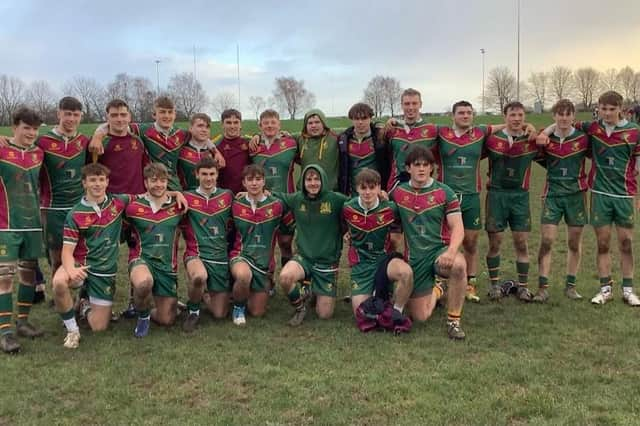 OLs came out on fire from the off and tore into Lichfield from the first whistle but their opponents gave as good as they got in the opening exchanges.
The deadlock was finally broken 15 minutes into the half after some great driving play by the forwards from inside their own half before the ball was moved quickly away and the backs swept up the field, the move finished off by Evan Ridd, who missed the conversion from wide out.
This spurred Lichfield into action, and they came back into the game.
They missed a difficult penalty but then converted an easier one to make it 5-3.
With five minutes of the half left, OLs' forwards went through the phases to drive well into the Lichfield half and again, quick ball through the backs was finished off out wide by James Lauder, Ridd again missing the difficult conversion.
There were no further scores in the second half but OLs were dominant in most phases and the defence was immense as they saw the game out to secure their quarter-final spot.
OLs first-team travelled to Peterborough Lions with a much-changed side and they slipped to a 24-7 defeat as Lions picked up their first win of the season.
After going ahead with a Ben Nuttall try to lead 7-5 early in the second half, OLs conceded three tries as Lions took over in the final 20 minutes to run out comfortable winners.
Newbold on Avon travelled to Leighton Buzzard hoping to extend their three-match winning streak but it was not to be as they went down 34-3 in Regional Two East Midlands, writes Phil Fereday.
The match was played on the home side's sloping pitch with a gale force wind and horizontal rain so not the ideal playing conditions for open rugby.
With this in mind, it was always going to be the team who adopted to the conditions best would be the winner and this was still not clear until towards the end of a scrappy first half which had Newbold three points ahead through a Dan O'Brien penalty.
But it all changed in the closing three minutes which saw Newbold go down to 14 men for a yellow card and the home side score two unconverted tries to make it 10-3 at half-time.
A now rejuvenated home side started the second half and things went from bad to worse for Newbold who did not seem to recover.
It seemed everything they tried just did not come off and the rub of the green and the 50-50 decisions all seemed to go against them.
The hosts took full advantage and scored tries at regular intervals while Newbold received a second yellow card.
Despite the loss, there were positives with newcomers to first-team stepping up and not looking out of place.