Taking a tour of a historic sporting scene right here on our own doorstep in Rugby
Not everyone can lay claim to having the birthplace of a worldwide sport close to where they live. Karl Quinney explores a historical educational institution and in particular the scene where sporting history was made right here in Rugby, which celebrates a milestone anniversary this year, all of which is right on his doorstep.
Watch more of our videos on Shots!
and live on Freeview channel 276
Visit Shots! now
Whether you are a fan, player or follower of the sport or not, it may have come to your attention that 2023 is something of a big year for the world of rugby.
The Rugby World Cup which gets underway shortly in France and running until the end of October promises to be the biggest and competitive tournament yet. Closer to home 2023 also marks the 200th anniversary of the game of rugby football; two centuries since a certain pupil by the name of William Webb Ellis who at Rugby School in Rugby, Warwickshire, was playing a game of football on The Close back in 1823 when he caused outcry and infamy by taking the ball in his arms and running with it. In doing so he created the worldwide sport we know today as rugby.
To walk past the school and The Close today in the market town of Rugby you would find it hard to believe such momentous events took place. The school's students attending what is still one of the UK's top 10 private schools get to see these historic surroundings at close quarters every day, whilst those living, working and generally going about their daily business more often than not also take this hugely historic setting somewhat for granted.
So being a Rugbiean born and bred and also with the bicentenary and upcoming events in France in mind I decided it is high time and perhaps long overdue that I find more about the in-depth history of Rugby School and this famous setting as part of one of their guided tours, all of which is literally within walking distance of my front door.
The school shop arranges the tours and is the meeting point for what is a fascinating two hour visit and history lesson. With a party of 20 including tourists from the USA and Egypt ready to go, our guide for the afternoon Julie gets us underway with a look at the school's museum which is a mere long pass from our starting point. The museum may be compact but what it may lack in size more than makes up for in content with some fascinating displays and artefacts, including a Death Cart from Victorian times which from its high vantage point hanging from the rafters looks as gruesome as it sounds.
From here we move out and pass 'The Island', the scene of the Great Rebellion but which according to Julie many a pupil today take for granted as simply being a mound or a hill by the shop. They are soon made aware of its significance, as are we. It's just one of many anecdotes Julie delivers throughout our time with her as she brings details of various events and the people involved with them and the school to life in great detail.
Our next stop is the Queen's Gates and the highlight and the opportunity many a rugby fanatic is waiting for. The chance to step onto – or as has been often the case, to kiss - the hallowed turf of The Close, the very place where the worldwide sport we all know today all began. For many it really is sacred ground and the quintessential photo opportunity with the school and the distinctive Butterfield's Chapel as a backdrop.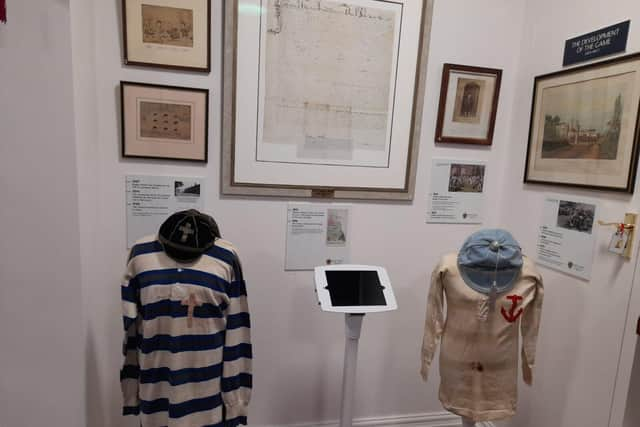 Once the tourists can be dragged away and off the turf, it is onto viewing several of the school's key historical buildings. Whilst for many the opportunity to set foot where Webb Ellis once did his thing gives them a proverbial 'goose bump moment', stepping foot into the aforementioned Butterfield's Chapel produced a real wow factor moment. Designed by the gothic revival architect William Butterfield in 1875, the interior remains as it was constructed and it is simply quite stunning.
Next up we head through to the smaller memorial chapel which is linked to the main chapel. Built as a memorial to those from the Rugby school community who lost their lives in the First World War and subsequent conflicts, it may not command the grandeur of the its neighbour but it is every bit as poignant as you would expect.
Our final stop of the tour is perhaps very apt seeing as we are in an educational setting. We head through the Quad and back to class as it were, in this case up a narrow staircase leading to the former study of one of the school's most famous headmasters Thomas Arnold. With that old school smell of wooden desks and a vast collection of books that have probably not seen light of day for decades all squeezed into bookcases and shelves something from a Harry Potter movie, it all harks back to a bygone era. Yet modern day blends in seamlessly in a historic setting which is still used to today; the sight of a laptop and electronic whiteboard replacing the more traditional sight of a blackboard to bring us back to the present.
As we head back downstairs through the Quad and returning to our starting point there is one last chance to step onto the lush turf of The Close if so desired and fire any last questions at Julie. But in truth there is no need to as she has pretty much covered every aspect you could think of and all in a very entertaining manner. You can tell she loves her job, the school and showing people around.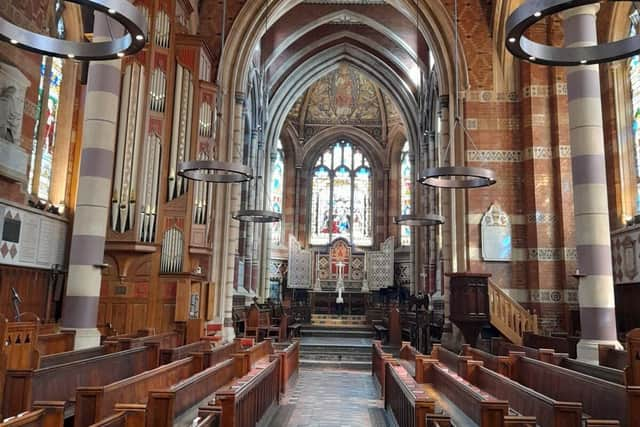 Before heading home (or even prior to starting the tour), the school shop is worth a look in as it stocks all official Rugby School memorabilia including books, stationary, keyrings, shirts, ties and replica footballs. I mentioned earlier about The Close being seen by many as sacred ground, well there is even chance to own your own part of it with limited edition glass paperweights available to buy containing the turf from where the historical rugby pitch was re-laid as a sand-based pitch last year.
It is easy to see why tours of Rugby School are popular and in demand and high on many international visitors' 'bucket list' of places to visit. Fortunately for some of us, they are at very close quarters as history is very much on our doorstep.
Tours of Rugby School and its Museum are available most Saturdays throughout the year starting from 2:00 pm. Meet at the Rugby School Shop on Barby Road from 1:45pm.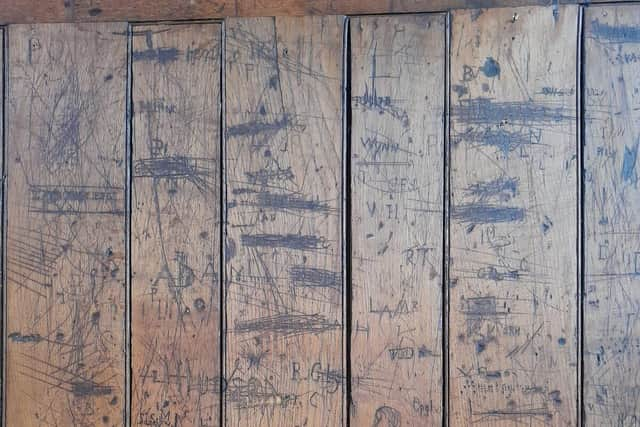 Although spaces are often available on the day, to avoid disappointment it is advisable to reserve spaces by phone, email or in person, and to check if any special events are running.
Costs for Tours of Rugby School are £8.50 or adults, £6.50 for concessions, with children under 10 going free of charge.
Large group tours with one tour guide per 25 people and private tours can also be arranged.