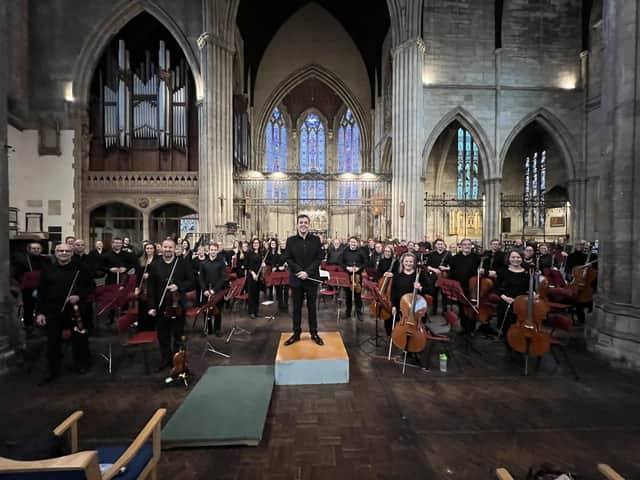 A music leaflet has listed more than 60 concerts across Leamington and Warwick in the first four months of 2023.
The Chairman of the Forum, Jo Tucker, and other members are now looking for some enthusiastic, probably younger, people to take over the compilation of the leaflet and the necessary liaison with the printers that follows.
The system has worked well over the years, so a new team could easily take over.
The 77th edition of the leaflet starts with the anti-clash diary, which society members maintain to help the many local choral, orchestral and other promoters find the best dates for their events.
It helps to avoid having performances on the same day, which might split audiences.
On Saturday (January 7) the National Youth Orchestra of Great Britain returns to perform at Warwick Arts Centre at the University and on Thursday 12 January, the Orchestra of the Swan is back at Warwick Hall in Warwick with the popular local singer Roderick Williams, to include a new work that he has composed as well as sing some Vaughan Williams.
Other orchestral concerts involve the Royal Philharmonic Orchestra, the Sinfonia of Birmingham , Leamington Sinfonia, Coventry City of Culture Orchestra, Beauchamp Sinfonietta, Stratford on Avon Symphony, Leamington Chamber Orchestra - and the Orchestra of the Swan has five more events.
On the choral front, Armonico Consort celebrates Byrd and Bach and Ex Cathedra also the Passion. The extraordinary richness of local choirs is upheld by St Mary's Warwick, Royal Leamington Spa Bach Choir, Da Capo, Collegium, St James's Singers, Spires, Coventry Philharmonic, Diatonic and the Stour Singers,
There is opera provided by Oriflamme and the Random Opera Company and on February 11 over twenty brass bands will compete at Warwick Arts Centre before an evening gala concert by the Cory Band.
Chamber music and early music concerts put on by Leamington Music put the district firmly on the national stage, with help from the Stratford Chamber Music Society.
A list of musicians has also been invited to the 2023 Leamington Music Festival between April 27 and May 1.
St Mary's church in Warwick, Holy Trinity church in Stratford and St John the Baptist church in Leamington will all host concerts for a lunchtime series .
Family concerts and organ recitals also form a part of the programme.
Richard Phillips, Leamington Music's festival director, said: "Having worked in Yorkshire throughout the 1970's, where good music is everywhere and local authorities believe that they should provide music as well as art galleries, libraries and theatres, Warwick District seemed in 1980 a dreary desert. MTYE shows just how much has changed for the better since then.
"To help it all to keep going at this new level, publications and their websites must be maintained by enthusiasts, who perhaps know something about music but still want to learn more and Music to Your Ears deserves to attract just such people to help it flourish. "