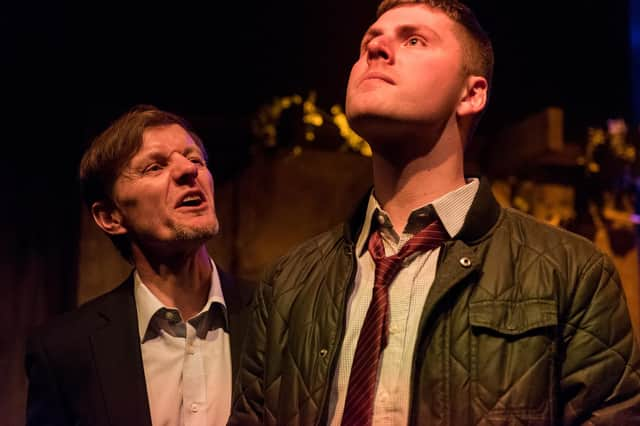 ​A lonely farmhouse somewhere on Dartmoor. A man, Mr West, (Dave Crossfield) not from those parts, seems to live there. But why?
Two men arrive, Wally (Phil Reynolds) and Patsy (James McCabe). They seem like small time gangsters out of their normal habitat. But who are they and why have they come? And then there's Draycott (Matthew Salisbury), who dines on roadkill, has a thing about badgers and appears like an annoying ghost to haunt the place. What does he want? And finally, Lue (Nona Davies), a young woman also trapped in this out of the way place, desperate to leave but somehow unable to. What hold does Draycott have over her? It's there in plain sight, like so much in this play, but what is it?
An air of menace hangs about The Loft's production of Jez Butterworth's The Winterling. It is considerably aided by the sound of RAF jets which scream randomly overhead at very low altitude. A war is going on somewhere, but here on the moor there is a different kind of conflict, one raging for these folk's souls, perhaps. We leave the theatre knowing we have had a glimpse of something important, something that matters in the scheme of things, but unable to name it. It's not an altogether comfortable experience, but it's not one you are likely to forget in a hurry.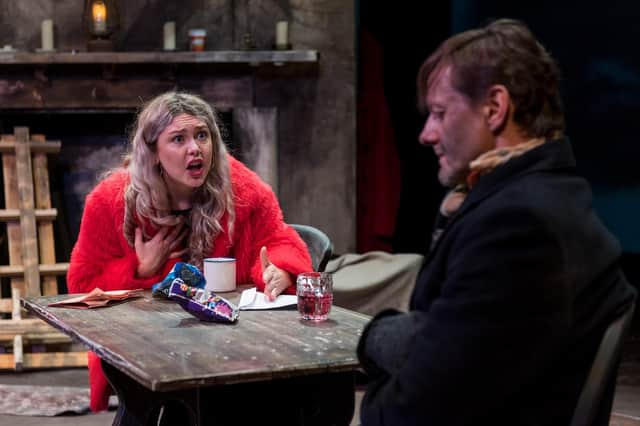 All the parts in this production work well together, but I particularly liked James McCabe as Patsy. He gave the impression he could turn on you in a trice, yet at the same time he was vulnerable, a young man way out of his depth. And Matthew Salisbury's Draycott was a superb show of on-the-edge craziness and far from good intent.
Jez Butterworth owes a lot to Harold Pinter. So, if you like your drama to end with everything tied up and explained then this play might not be your thing. But if you're thrilled by the mystery of human motivation, of our need for power and protection, and by mood as much as story, then this production is definitely worth seeing.