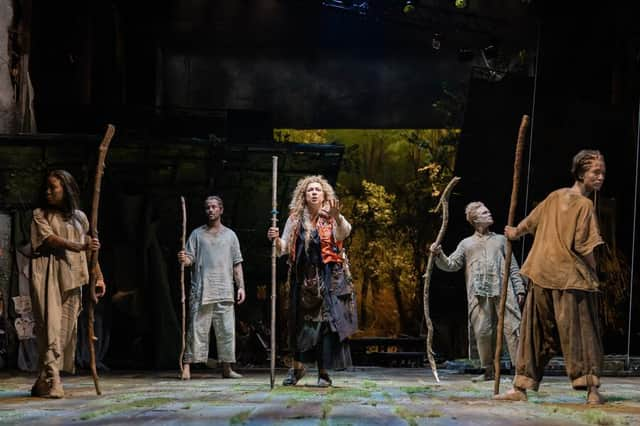 There are times when magic and mystery are mundane, and there are times when the mundane is magical and mysterious.
When the RSC last staged The Tempest, it was a high-tech affair, with whizzy computer graphics and a much-trumpeted collaboration with IBM. But Elizabeth Freestone's production goes in the opposite direction: it is earthy and rugged, with no special effects, no clever illusions and, presumably, nothing like the same budget. And it is all the better for it.
The RSC has made much of the production's green credentials. These are indeed impressive: parts of the set have been repurposed from previous shows, and there has been an emphasis on using as few new materials as possible. But dismiss any notion that the resulting show will be three hours of environmentalist preaching. The theme of ecological degradation is handled matter-of-factly and never seems forced. It is there in the detritus on the island, in the costumes of its inhabitants, in the oil littering the landscape. O brave new world, that has such plastic in it.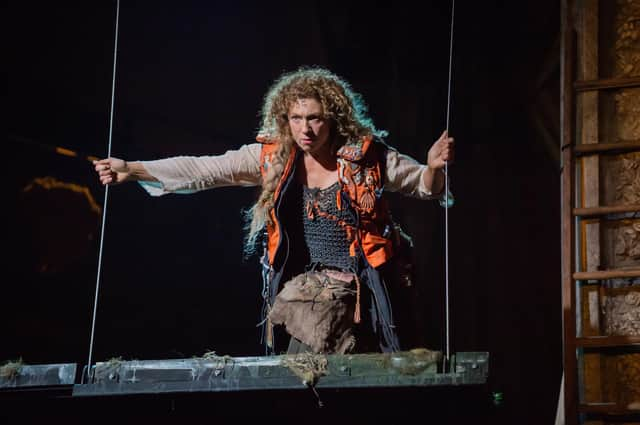 At its heart is a powerhouse portrayal of Prospero by Alex Kingston. The magician here is not some ancient mystic, but a woman whose maternal love for Miranda is fierce and ferocious, and who exudes a kind of indestructibility, as if she is made of thick blood and tungsten. She is not out to charm; this is not necessarily an endearing performance. But it demands nothing short of awe.
There is no air of the conjuror about her, no great theatre to her powers. Instead, hers feels like natural magic, raw magic, real magic. It is casual and quotidian. One minute she is hanging up the laundry, the next she is throwing men around with the telekinetic force of her staff, and both acts feel as if they in the same general category. This Prospero will be remembered.
A drawback however is that the production suffers whenever she is absent; it is as if a dazzling flame has been extinguished. Matters are not helped by the play's own flaws: the comic scenes are laboured and there are too many irksome characters. The rest of the cast are certainly able, and do their jobs well, however: Tommy Sim'aan as the half-monster Caliban stands out for his physicality and his bruised yet defiant countenance, and Heledd Gwynn skilfully blends strength and spriteliness as the spirit Ariel.
And things pick up in the second half: Arial undergoes a terrifying transformation into a winged beast, a wedding masque is staged with great delicacy, and the pace generally quickens. But it is not until the final 30 minutes or so that the production – and perhaps the play – really starts to soar. The tale of jealousy and revenge is transfigured by forgiveness into one of redemption. Prospero renounces her magic but gains something greater. It is as if there is a maturing, a letting go. Her humility is an outgrowth of her force. This is mercy at its most sublime and infinitely potent: new life comes to the island, and true wonder unfolds.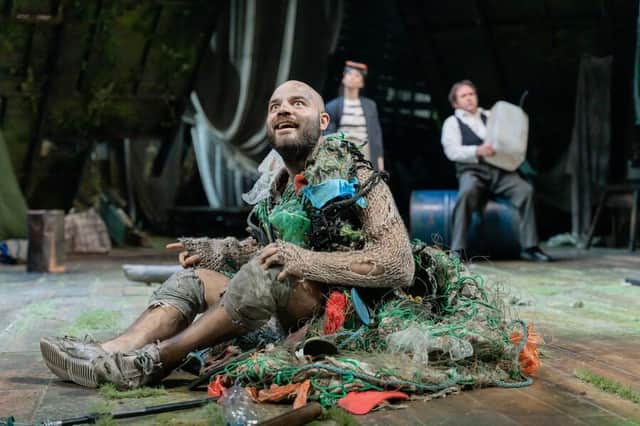 Reality, reimagined. It's magical.
The Tempest runs until March 4. Visit rsc.org.uk to book.