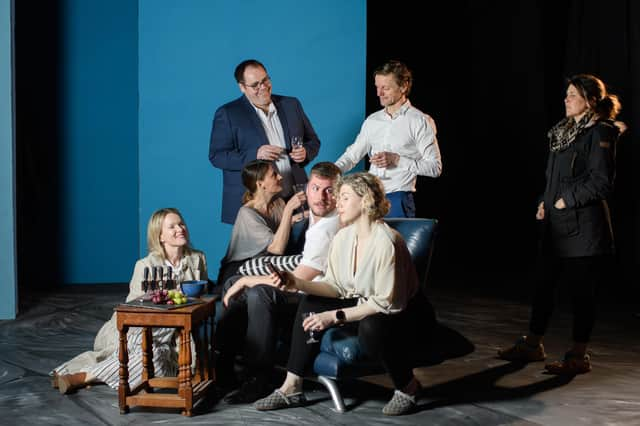 ​Once a case gets to court it's not to do with truth and justice but how good your barrister is.​
Gayle (Julie-Ann Dean), was befuddled by the court process and left bereft at the lack of justice for the rape she suffered. This play gave an astute analysis of the legal process as Julie-Ann portrayed superbly the bewilderment of Gayle, a working class woman, before and during her cross examination. The whole play highlights the continued injustice for rape victims.
For the respective defence and prosecution barristers Eddy (Dave Crossfield) and Tim (James McCabe) this was just another case. Nina Raine's very clever script depicted the hypocrisy of this metropolitan elite. With their wives, other barristers and their friends they sneer with disdain at the hoi polloi. They drink, smoking dope, and laugh. These privileged professionals live a world away from Gayle's situation. Eddy and Tim's flirting with Zara (Esther Riggs) as they explain cross examination techniques to her was a clever demonstration of manipulation of witnesses to influence a jury irrespective of the truth.
This came at a price in their personal lives as flaws came to the surface. Infidelity, the inability to forgive, the incessant need to forensically analyse issues within their relationships and rationalise behaviour causes marriages to split and reform or new relationships to form. The second act in particular brilliantly exposed acrimonious and vindictive behaviour, and a desire for revenge and justice, something which paradoxically their clients often did not get. When Gayle gatecrashed a party at Eddy's, she gave an impassioned speech as she tried to bring home to them the effects of their actions and inactions at her trial.
All the actors played their parts magnificently. The set was as simple with minimal furniture but the script and direction of the actors made this The Loft's best play of the year so far.