Review: Renowned ballet company tell a tale of tragic love with emotional finesse on Northampton stage
Anna Brosnan reviews Giselle at the Royal & Derngate, Northampton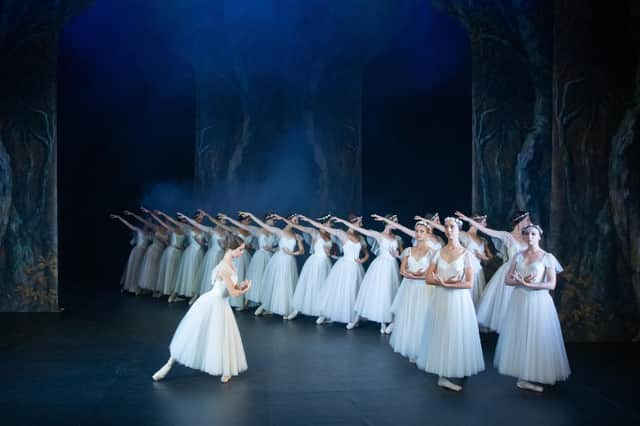 A cautionary tale of duplicitous love, Giselle was this week taken to the Royal & Derngate by a company visiting the UK for the first time in its 75 year history.
It may be the first time dancing on British shores for the Bulgaria-based Varna International Ballet, but its programme is a busy one, including performances not only of Giselle, but also of The Nutcracker and Swan Lake.
My daughter and I visited yesterday to see Giselle on the first of Varna's three night run in Northampton.
Danced to a beautiful score written by Adolphe Adam, performed by a live orchestra, Giselle focuses on the story of a peasant girl who falls in love with Count Albrecht, only to find that her handsome beloved has already promised marriage to another woman – Countess Bathilde.
Spoiler alert: Giselle does not take the news well, reacts badly and is soon overcome, dying of what we can assume is a broken heart.
The second act focuses on the dances of a group of ghosts called the Wilis, the spirits of young girls with similar lovelorn histories to our heroine. Giselle visits Count Albrecht from beyond the grave, keeping him from the reach of the Wilis.
This is a stripped-down and very traditional production, complete with a simple set initially comprising a rural backdrop with castle and some rather rickety looking rustic doorways.
The set in the second half is mist-filled and more ghostly and atmospheric, featuring a bleak backdrop peppered with gravestones from which the Wilis emerge.
This was my daughter's first visit to the ballet and my first watching Giselle, so we were both captivated by the simply told story.
Claire Gillard plays Giselle, sharing wonderful dance chemistry with Marco Di Salvo as Albrecht. Both are strong performers, exhibiting great athleticism balanced with delicacy and emotional finesse as they play out the tragic tale of a love that never really was.
The role of Giselle is a dynamic one, starting with the simple portrayal of a young country girl in love but really tracking a tough emotional journey. Clare Gillard displays some fine acting, as well as dancing skills, to convey the character's utter heartbreak and eventual demise.