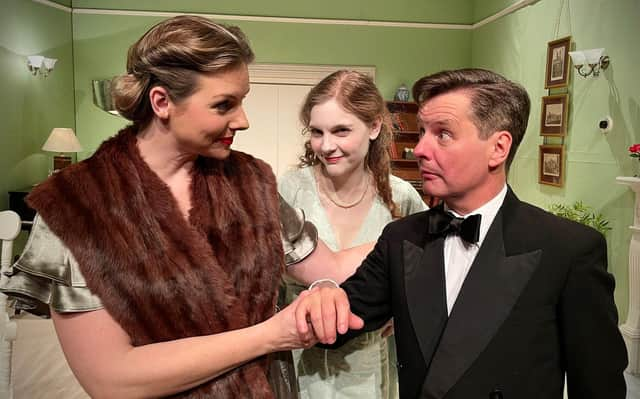 Noel Coward's Blithe Spirit is always popular and deservedly so when performed as well as this. The cast and crew delivered a five-star production from the acting to the scenery, technical, costuming and directing.
A full house enjoyed a top-drawer opening-night performance. Director Adam Schumacher drew the best from his cast and cemented his reputation as he stepped into the lead role of Charles due to illness of an actor. He was the lynchpin of the production, realistically conveying a gamut of emotions as his late wife Elvira (his real-life wife Lauren Schumacher) appeared following a séance with Madame Arcati (Anita Dalton). Adam oscillated between self-assuredness, flippancy, desperation and helplessness. Anita was persuasively eccentric as she got more and more out of her depth as events spiralled out of her control. Lauren was wonderfully flighty, conniving and capricious in a pale green gossamer outfit and pale make up.
Esther Taylor gave an outstanding performance as Charles's second wife, Ruth. The poshness soon gave way convincingly to incomprehension and frustration, firstly with Charles as she was talking at cross purposes with him, and then with Elvira. The three-way sparring conversations between Charles, Elvira and Ruth were hilarious and very well acted with excellent positioning as Ruth could not initially see Elvira. Coward's script of the bickering between the three main characters is very clever but it was the wonderful delivery that reinforced the humour.
The set was a tribute to the crew. Steve Vent's technical skills were spot-on throughout, but especially spectacular in the very last scene.
This amateur performance was anything but. See this show – if you can get a ticket! Adam and Esther were involved in The Priory's Blithe Spirit 25 years ago and this production is dedicated to Graham Shurvinton who had appeared in that production and sadly died recently.
Blithe Spirit runs until Saturday February 18. Visit priorytheatre.co.uk or call 0333 666 3366 to book or for more information about this and future productions at the theatre.