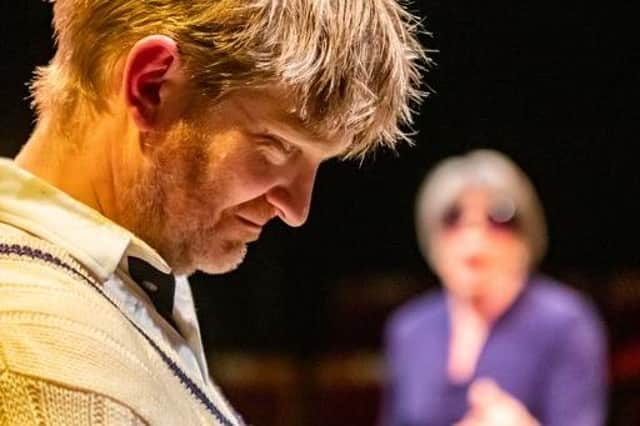 Ah, the buzz and hum of a late summer garden. A gentle breeze, the scent of flowers, warm sunshine, apples ripening on the bough. An idyllic pastoral scene, and one to warm our hearts in this chilly February.
Only, in the Humble family garden, things are not quite so bucolic. James, the father, a keen amateur entomologist, has recently died, leaving behind his beloved bees and his waspish widow Flora (Pamela Hickson), their son Felix (Richard Sandle-Keynes) and their close friends to pick up the pieces. Tensions quickly emerge after the funeral from which Felix, a brilliant but eccentric and socially repressed theoretical physicist, had just run away in panic. His mother, an overbearing, and frustrated matriarch, is furious, as well she might be. But there are other issues just beneath the surface that threaten to do more damage to this family. Humble Boy, by Charlotte Jones, is the story of their emergence and resolution.
It's a subtle play, whose emotions shift as quickly as the fleeting summer shadows in the garden. Its roots are embedded in Shakespeare's Hamlet, and Felix is a worthy substitute for the troubled Dane, and Flora for his mother Gertrude, who between them have a powerful love hate relationship. The magic of this play is the way that this complex relationship, in all its shifting colours, entwines with that of their friends and their shared histories.
The play is staged by Humble Productions, a company created especially for this production, which contains some of the finest actors and stage crew in the region. You can see why. The part of Felix requires an actor of remarkable emotional dexterity, and in Richard Sandle-Keynes it gets all it deserves and more. Equally matched is Pamela Hickson's Flora, a difficult woman for sure, but one defined by passion and compromise. These emotions are constantly in play in her performance and the result is thrilling to behold.
Then there's George Pye (David Derrington), long time suitor to Flora, who despises Felix for having had a destructive affair with his daughter Rosie (Zoe Mortimer). But that affair isn't quite over, and its twisted stem emerges in surprising ways. I loved Charlotte Froud as Mercy Lott, friend to the family and devoted hanger-on, whose deliciously underplayed comedy sparkled into frantic action when she realised she had accidentally mixed James's ashes in the gazpacho. Then there's Jim (David Gresham), the gardener, who turns out to be much more than he seems and is perhaps the only true friend Felix has. He and Flora end the play in a beautiful celebration of love told through the language of flowers.
There is so much one could say about this play that can't be contained in a short review. The language sings, marvellously evoking the depths of emotion that lie within and between the characters. There are shades of an Alan Ayckbourn farce within it, and of course more than a nod to Shakespeare. And few other plays could mix these elements with string theory, horticulture and bee-keeping and get away with it.
This is a great play and a company we deserve to see much more of.
Humble Boy runs until February 11. Visit rsc.org.uk to book.