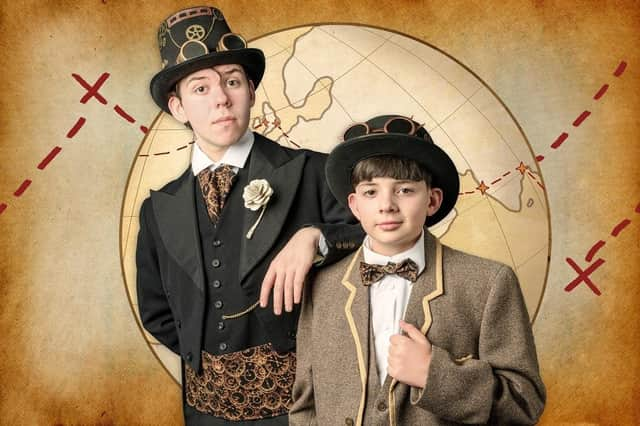 Around the World in 80 Days is ideal for a film where the director can use special effects, exotic locations and 'a cast of thousands'. But how to recreate that on stage? Director Caroline McCluskey and the Talisman Youth Theatre did a fantastic job in recreating this adventure over just less than two hours.
Oliver Mason gave a top notch performance as Phileas Fogg supported by 31 members of the Talisman Youth Theatre, some of whom played more than one role. Oliver was superb as the unflappable English gentleman with the stiff upper lip, whose projection was excellent and delivered all his lines fluently. Orestis Kallipolitis gave a confident and animated performance as Passepartout, especially noteworthy in view of his young age.
The story moved along apace, with clever use of a backdrop of a large world map plotting the route. The different locations were evoked with suitable musical accompaniments and minimal choreography. Indeed less worked better than more in those areas. The large participation in the sailors' dance on the cross-Atlantic ferry was particularly funny as was the storm scene and circus event. Laura Hampson joined the party as Fogg's companion Mrs Aouda, and their interaction worked well.
The whole cast gained in confidence as the performance progressed, their vocal projection getter better, something that young actors often struggle with. This production was an ideal vehicle on several levels. Not only did the audience have a wonderful evening's entertainment, as was clear from the rapturous applause, but it allowed these young performers to gain confidence on stage. All the cast did well and there are many who will be seen again in future productions at the Talisman and elsewhere. This was another feel-good and uplifting Talisman production.
Around the World in 80 Days runs at the Talisman Theatre until Saturday March 18. Visit talismantheatre.co.uk or call 01926 856548 to book or for more information about this and future productions,