The man behind the mirth: What I discovered about Ken Dodd at a new exhibition
Ken Dodd aficionado Clive Peacock finds much to enthral, entertain and enlighten on a trip to Liverpool
The opening of Happiness! exhibition at the Museum of Liverpool reveals much about Ken Dodd and his private life. Best known as the quick-fire daft pun and one-liner expert who thrilled and amused millions over a six-decade career, the exhibition shows a very different side to him.
Having had the good fortune to meet Ken on several occasions to discuss his work ethic and to witness his performances at the Spa Centre in Leamington, I was pleased to receive an invitation to attend the opening in Liverpool. Ken had asked for his private notebooks, "mind maps" and survey material to be burnt at his death. But his wife Anne, Lady Dodd, was forced to break her promise to Ken to destroy the material when she realised how unique it was and how valuable it was in establishing a complete record of the life of the last of the great music hall entertainers.
As a treasure trove of memorabilia, the exhibition gives the Moggy Skin Coat its own display case; the Diddy Men, too, are fully displayed, Dickie Mint taking pride of place. Videos of Royal Variety performances and Palladium appearances abound. More recent videos pay tribute to the maestro including the Bishop of Liverpool observing that "Ken was not a cruel comedian" and that "his faith shines through his work"; Miriam Margolyes, in reminiscent mood, declares: "He brought joy to the world". Tucked away in a corner is reference to his Ken's strong faith and evidence he carried a "Jesus is the Light of the World" picture as he believed "those with troubled minds should pray – you will be helped". Close by is the 1939 certificate of merit from the Royal National Lifeboat Institution in recognition of Ken's essay on "The Lifeboat Service"!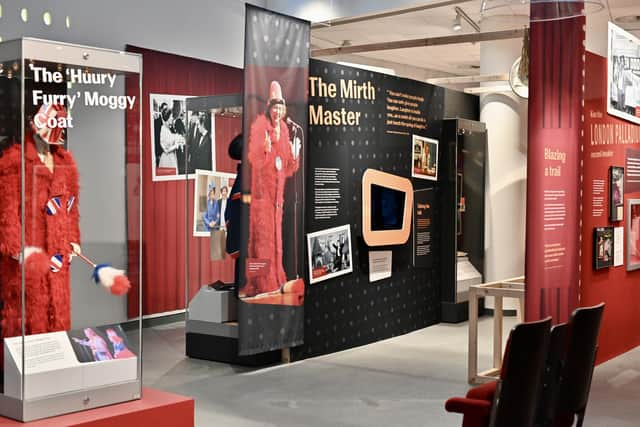 Much more important than the videos, certificates and the on-stage paraphernalia is the content of those previously unseen notebooks, diaries, and performance appraisal material. Hard to believe, perhaps, but there is evidence of Ken's notebook "mind mapping" efforts dating from long before Tony Buzan coined the expression in the 1970s. Ken was diligent in locating the theme of the map located in the centre of the page with ideas branched out hierarchically. His notebooks include remarkable 'maps' of the 'show business industry' and 'delivery of the best shows'. He carefully critiqued his own performances across the country, analysing the jokes he used by region or city, marking them appropriately as "good, "fair", "fair to poor" or simply "no". For years he studied the 'philosophy of laughter' during his regular visits to the Liverpool Central Library which now houses a life-sized bronze bust of its regular visitor, designed by portrait-sculptor Jane Robbins.
It comes as no surprise to learn he was a prolific reader: he loved books, building a large library at home alongside a much-admired collection of LPs. Music and drama played significant parts in his career: his performance as Malvolio in Twelfth Night is warmly remembered; among his chart-topping songs are Tears for Souvenirs, Love is Like a Violin and Happiness, the title he took for his shows. Sometimes a very private man, at other times the darling of an adoring public over those six decades.
What started my fascination with the career of Ken Dodd and the continuing interest in the recent revelations in Liverpool? As a schoolboy in Bristol, my walk from school to the bus stop for my journey home took me past the stage door of Bristol's Hippodrome. Sightings of stars in the 1950s was a frequent occurrence and autographs of Ruby Murray, Eve Boswell and Tommy Steele are stored in the loft for a future generation's amusement. One afternoon a very weird looking man with mad hair and buck teeth was entertaining a small group of fans prior to moving towards the stage door; that man was a very young Ken Dodd, appearing for the week in Bristol. Some 50 years later the youngest member of my family had found himself a position on the Leamington Courier as a junior reporter, informing us at tea he was required to review a performance by Ken that evening. Accepting his invitation to join him we set off for the Spa Centre, notebook in hand. Ken loved to perform; he was always reluctant to leave the stage, which is why his performances regularly overran by hours. His favourite one-liner "By the time you get home tonight you will know what it is like to be in a hostage situation" sums up his attitude to work! As the interval began at close to eleven o'clock, after the one-liner "I understand the boomerang is coming back", the young junior reporter stood up, turned to his father to confess, "I cannot take any more of this, you must write the review!" And that was the beginning of a serious study of the work of Ken Dodd.
Over the next 15 years, with his agent's help, I telephoned him two weeks before his Leamington performances seeking a story for a preview in the Leamington Courier; he never failed to provide me with masses of material to work with. At every performance he would suggest, "those of you who booked taxis for midnight are the optimists in the audience"; seldom did his shows finish until the early hours; however, he always gave me time in his dressing room to reflect on the evening and the state of the economy, before Anne drove him home to Knotty Ash as daylight broke. He was not a spender, as we all know! Anne is now spending his money very wisely through the Ken Dodd Charitable Foundation, with monies for primary schools in Knotty Ash a priority.
Yes, I did sign the petition to grant him a knighthood. He thoroughly deserved it.