Outer Banks season three: Who is Edward Teach and why was Blackbeard famous? OBX3 spoilers & ending explained
Fans are all wondering the same thing after bingeing Outer Banks season 3 on Netflix…
Watch more of our videos on Shots!
and live on Freeview channel 276
Visit Shots! now
Outer Banks season three finally dropped on Netflix February 23. The show once again featured our favourite pogues being put through it as we joined John B and his crew for their biggest adventure yet.
The third season picked up right where season two left us, with the Pogues being stranded on the island they appropriately named 'Poguelandia' (thank you, JJ). They survived well, and seemed to have it made but of course, it was short lived.
The second the pogues left the island all hell breaks loose in true OBX fashion. Beware for those of you normal people who didn't binge the entire season within the first 24 hours of its release, there are big spoilers ahead.
Seasons three managed to do the impossible, and raised the stakes even further with the Pogues going on their biggest treasure hunting trek yet. New enemies like Carlos Singh who was relentless in his search to find the lost treasure of El Dorado, gave the pogues a tough time during their quest. Not to mention, Rafe going crazier and breaking away from his redemption hunting father.
All in all, it was chaos, but we expect nothing else from Mr Jonas Pate who has had us holding our breath since the first season of the show dropped.
However, in a surprising turn of events, the Pogues actually managed a win. After two seasons of losing the gold, they took the gold and managed to live their dreams. In an epilogue set 18 months after we saw the Pogues being honoured for their discovery of El Dorado, JJ got his boat, Sarah and John B got their surf shop and even Pope went to college.
But that wasn't all…In true OBX fashion fans were left with a small cliff hanger setting up the next adventure for our favourite crew. A man approaches the Pogues, asking them to look at a Captain's log from 1718. When they ask who the captain was he responds, 'Edward Teach…Blackbeard', to which John B replies with a smirk ''Hot damn" - telling us that they are officially back in the treasure hunting game baby!
Most will have heard of Blackbeard, but the cliff-hanger has left many wondering what he was famous for. Here's everything you need to know.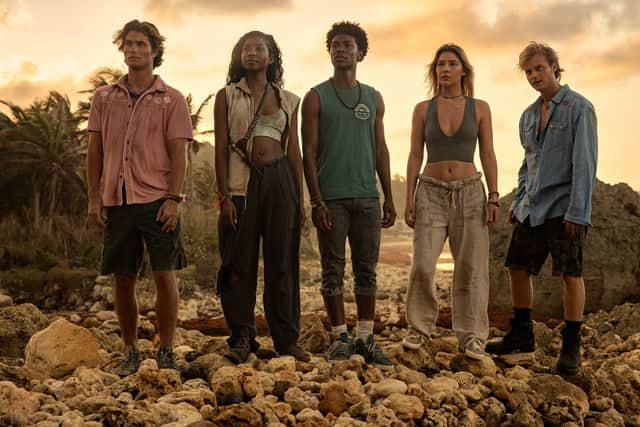 With season four already being confirmed at the massive Poguelandia event, we know for sure more adrenaline filled action is on the horizon.
Who was Edward Teach?
Edward Teach was a real-life English pirate, best known by his nickname Blackbeard. The pirate has been the centre of folklore for years, dying in battle in November 1718…and where, you might ask, did he die? Only in the Outer Banks on Ocracoke Island.
According to Britannica, Blackbeard seized a French ship and turned it into what would become known as the Queen Anne's Revenge, also maintaining a base in North Carolina. It's also believed that the pirate buried his own treasure that has yet to be discovered. However, Britannica does note that it "probably never existed." But clearly they haven't met John B, Pope, Sarah, Kie, Cleo and JJ yet…