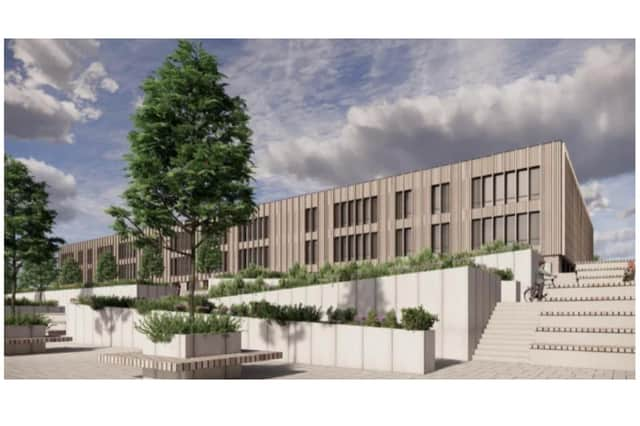 A CGI of the new Oakley Grove School. Picture supplied.
Concerned Bishop's Tachbrook residents have been told that their safety worries will be taken into account when discussions around road closures and HGV routes linked to the building of the nearby Oakley Grove School continue.
Work on the new all-through school - which will take nursery, primary, secondary and sixth form students - cannot start until a construction management plan has been signed off and the latest one has led to an objection from Warwickshire County Council's highways team.
Speaking at this week's [TUE] planning committee of Warwick District Council, planning officer Helena Obremski said: "We have control over the construction management of the site.
A plan has been submitted and it has not been discharged yet because there are outstanding concerns that highways have raised.
The plan will look at highway safety and the potential impact on neighbours.
"Just to reassure councillors, there are ongoing negotiations between the parish council, county council highways and the applicants. I know the applicant is working very hard to avoid or significantly reduce any closure of Oakley Wood Road."
The complete closure of the road for up to six months was flagged up by Cllr Lee Carter, of Bishop's Tachbrook Parish Council, who spoke at the meeting.
He said: "Oakley Wood Road is vital within our parish being the only direct connection between the north and the south of the community. The impact on residents' access to schools, shops, doctors, church hall, pub, social club as well as travel for work and leisure will be profound and the effect upon the financial viability of the Leopard pub is a major concern.
"The closure raises safety concerns with village traffic being forced to use the high-risk junction of Mallory Road/Banbury Road - there have been many accidents at this junction.
"The parish council requests that a full closure of the road be avoided."
Luke Berry, who has lived in the village for 11 years, said that the proposed route for construction traffic through the village should also be changed.
He explained: "The key point is that our safety must not be compromised as a result of lack of due process in rushing to hit a deadline."
Outline permission for the school was granted at a previous meeting and this week, councillors approved reserved matters dealing with the appearance, layout and landscaping of the site.
There were frustrations though with Cllr David Norris (Con, Bishop's Tachbrook) saying: "Because it has been delayed, it feels like everything is trying to be rushed through in little snippets so it gets approved without actually looking at the bigger picture of construction and the impact on the community."
The approval will include a note strongly encouraging stakeholder engagement in agreeing the construction management plan and clarifying that it needs to be agreed before building work starts.