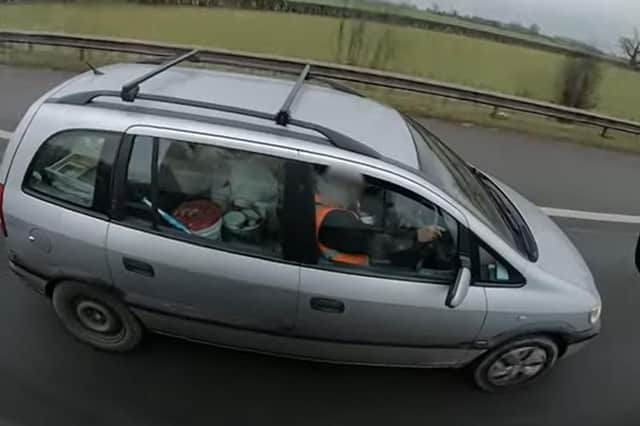 Warwickshire Police have published a Youtube video showing drivers being caught committing offences on motorways and other major roads in the county.
The video was posted by the force after its Operation Tramline crackdown on the M40, M6, M69 and A46 led to almost 100 driving offences being detected in just three days.
The footage was captured from the National Highways-owned supercab which police used to patrol the roads from February 27 to March 1.
Officers were "dismayed at what they saw "in the footage with officers identifying and dealing with 97 offences, the police have said.
One driver was reported for watching a film on his mobile phone whilst driving at 55mph on the motorway.
A van driver who was also reported for watching a film on his mobile phone whilst driving.
A provisional licence holder who was intercepted driving to their driving test without being supervised. Their vehicle was seized.
Another driver who was reported for driving without due care and attention and speeding having only had his licence for three days.
The rules for new drivers are tougher and if they build up six points in the first two years of driving they will lose their licence and will have to start again and retake their test.
One driver was reported for speeding after being caught travelling at 115mph on the M40.
He will go straight to court.
Another driver was charged with failing to stop and dangerous driving and had no documentation.
Officers also arrested an illegal immigrant.
In addition, officers identified 61 drivers committing one of the 'fatal 4' driving .
Twenty-six drivers were detected using a mobile phone in their hand while driving at speeds of up to 70mph.
Twenty-three drivers (or their passengers) were not wearing seatbelts and 12 drivers were caught speeding.
Officers also dealt with seven drivers for not being in proper control of their vehicle, two for driving with no insurance and three vehicles were seized.
Once a suspected offence was identified, the vehicle was intercepted by officers and brought into a check site.
Out of a total of 85 drivers who were dealt with by officers, 47 were issued with Traffic Offence Reports and 1 driver received a Graduated Fixed Penalty. The remaining 37 receiving words of advice.
PS Shaun Bridle said "During this operation, I observed at first-hand how the majority of HGV drivers we saw are careful drivers, with seat belts being worn and no mobiles being used.
"However there is still much work to be done in educating van and car drivers with at least three of them likely to be disqualified and losing their jobs as a result of the choices they made driving through Warwickshire."
"It's extremely disappointing especially during the NPCC mobile phone campaign to see so many mobile phone offences.
"Please do not underestimate these offences, as driving whilst distracted can lead to death and injury to the driver and innocent people using the road network.
"As long as we continue to see drivers not complying with the law, we will plan more operations over the coming months.
"We also need drivers to take responsibility by avoiding these high risk behaviours whilst driving.
"To support our aim of making Warwickshire's roads as safe as possible, we are training more officers to be qualified HGV drivers to join the Op Tramline team."