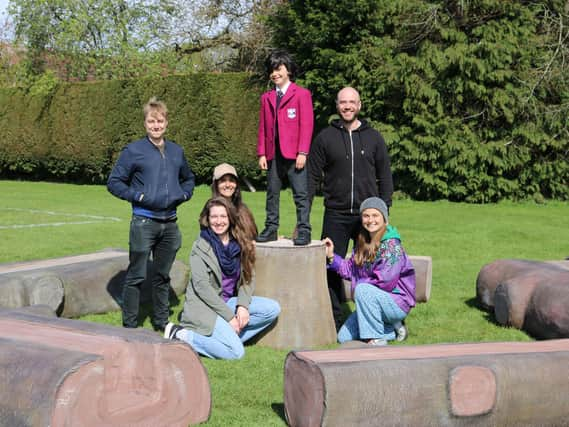 A Leamington school pupil's fairy tale has come to life after he won a writing competition which will lead to his story becoming a touring play.
Kasper, a Year 4 pupil at Arnold Lodge School, was the overall winner of Heartbreak Productions' competition.
The Leamington-based outdoor theatre company will transform Kasper's story Sin De Fella, a modern twist on the fairy tale classic Cinderella into a stage show, which will be performed by professional actors and toured nationally this summer as part of the Wonders with Grimm tour.
The production company, which launched the competition to celebrate 30 years of touring the open air theatre, chose Kasper's modern fairy tale from entries submitted from all over the UK.
The competition was launched by Maddy Kerr and Peter Mimmack, who formed Heartbreak in 1991, with the winning story selected based on five categories including how original, interesting and entertaining the story and characters are and how well the fairy tale has been modernised.
Peter Mimmack, director of Wonder with Grimm, said: "We are delighted to be working with Kasper's story; we have been working with young people for many years and incorporating them into our shows, but recently we have been developing their stories as well.
"What is so fantastic about this is that you really get an authentic modern young person's voice. They are also so inventive and unrestricted and we were really impressed with Kasper's imaginative story telling.
"I love this story with its gender inversion of the Cinderella role and the Hairy Godfather, who is a funkier version of James Bond's Q! It's definitely a 'must-see' performance."
Wonder with Grimm will open in Jephson Gardens on Friday June 11 and will tour outdoor venues across the UK until September.
Kasper added: "I am so excited and flattered to have my story tour on the stage through the UK this summer, my whole family is really looking forward to seeing it live.
"I wanted to modernise the story of Cinderella with face masks instead of a glass slipper and I can't wait to see the actors bring it to life."
David Preston, headteacher at Arnold Lodge School, said: "We are very proud of Kasper and his hard work.
"Our creative and performing arts department at ALS continues to flourish and Kasper's achievement is testament to that."