David Kelham, Warwickshire's High Sheriff held an event at Warwick's Old Shire Hall on April 4 to recognise individuals and organisations, nominated by the public, working to make Warwickshire the best it can be.
34 individuals were honoured, including: Josh Turner from Warwick School who fundraised for charities to help buy two ambulances for Ukraine; Mandy Littlejohn for her tireless work in keeping Warwick beautiful; and Alison Insley, a volunteer firefighter from Kenilworth.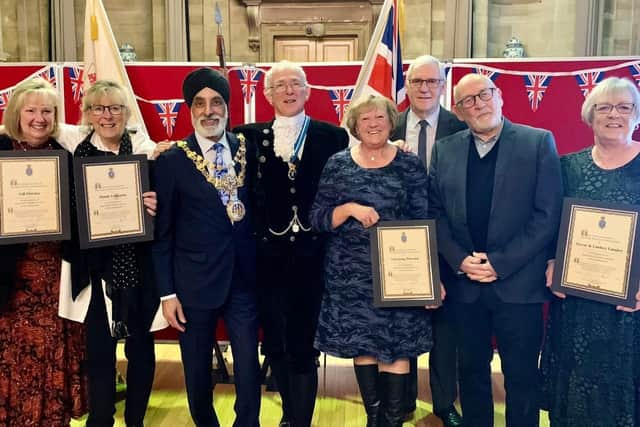 Reflecting on the awards, David said: "The number of wonderful people – paid public servants or volunteers – who do so much to keep Warwickshire working is awe inspiring.
"No matter how much time I spent out and about, I have been conscious from the beginning that I could not possibly meet or thank all who go above and beyond and so I asked for nominations from the public, through the High Sheriff Website and from organisations as I went around and have been stunned with the response."
"This reception in the old heart of the county town is a chance to say thank you to as many people as I could with a High Sheriff Award certificate."
Here is the full list of award recipients: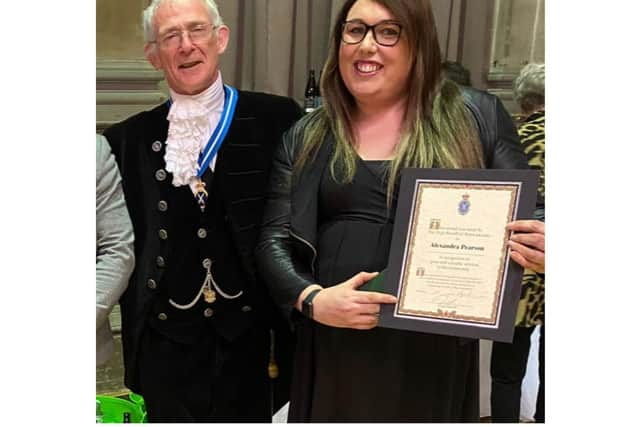 ~ Mohamed Sahib – Nuneaton – Invaluable Community Work
~ John Ison, Bedworth – Working in the Nook, Bedworth and the community
~ Alex Pearson, Leamington – from Morrisons supporting Grassroots
~ Susan Verne, Leamington – Grassroots - work with women
~ Ian Malins, Warwickshire Search & Rescue – Dedication and work with WARKSAR
~ Mandy Littlejohn – Tireless work in keeping Warwick beautiful
~ Unlocking Warwick – Community interest group providing engagement and entertainment for Warwick residents
~ Susan Watkins (Sioux) – Community work, food parcels, environment
~ Back & 4th Community Transport Volunteers
~ Alison Insley – Volunteer firefighter
~ Helen Aris – Supporting Ukraine visitors
~ Elizabeth McKenna – Community champions Wellesbourne Div
~ Heather and Paul Dowler – Community champions Wellesbourne Div
~ Sue Chambers – Volunteer assisting bereaved people
~ Rebecca Thomas, Rugby – Youth Worker at Bradby Club
~ Gill Fletcher, Warwick – Work with young students from Warwickshire College Group
~ Barbara Jean Scott – Volunteer at Warwickshire Magistrates
~ Kay Greene – A pivotal role in the development and advancement of community palliative and end of life services in Warwickshire
~ Robert Satchwell – Cadet Youth leader at Bedworth
~ James Walker – Regimental Sergeant and support for Warwick Remembrance Parade
~ Jeff Worthington, Warwick – Peer support at Veterans Contact Point
~ Dr Townsend – commitment to the community
~ Ms Kristy Marshall – Community development worker
~ WWF Volunteers in Rugby
~ Alyn Peach, Bedworth – Caretaker for Race Leys Infant School and reading volunteer
~ Nigel Shanahan, Leamington – Founder and funder Make Good Grow - supports charities and community groups
~ Trevor & Lindsey Langley – Community work in Warwickshire
~ Sheena Jones – Officiated at thousands of ceremonies in Warwickshire
~ Paula Thompson, Nuneaton – Local welfare team helping thousands of residents
~ Barnaby Briggs – fire officer serving communities
~ Stuart Palmer – Chief archaeologist who discovered a major rescue of medieval village in Burton Dassett
~ Josh Turner, Warwick School – Fundraised for charities and bought two ambulances for Ukraine
~ Debbie Woodliffe, Stratford – Community work with Meon Vale
~ Dharma Raj Rai, Nuneaton – Work with Gurkha British Veterans