Four amateur artists from across Warwickshire have been given a helping hand in the form of a bursary.
The bursaries from Warwickshire Open Studios' (WOS) Emerging Artists scheme, are worth £250 each and are designed to enable new talent to get involved with WOS summer art weeks event.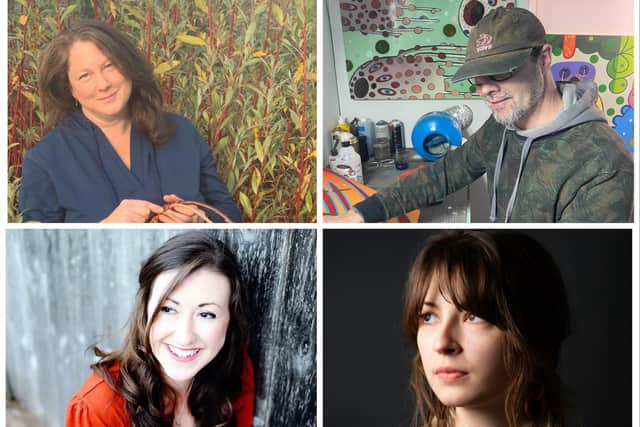 In addition, each artist will be given mentoring and support as they develop their creative practice.
For more than 20 years, Warwickshire Open Studios has been helping visual artists and designer makers across the Warwickshire and Coventry area connect with art-lovers who enjoy, buy, commission and participate in their work.
The annual Summer Art Weeks are an opportunity for amateur and professional artists to showcase their work at a free art event .
The bursary winners are: Clare Shilvock (willow and basket weaver), Darcy Hill (ceramicist), Hayley Burgess Hollier (printmaker) and Ian White (abstract painter)
Clare Shilvock says: "I am so grateful for the Emerge Bursary, which will help me purchase materials to better display my work and purchase some basic sets of tools so visitors can have a go at some beginner basketry techniques."
Ian White added: "I feel so fortunate to have benefited from receiving a bursary amongst such very strong entries and the guidance I am receiving from the team at WOS has helped me gain the confidence to take a step towards become a more confident artist."
Bursary artists have been given one year's free WOS membership and their Summer Art Weeks 2023 entry paid, as well as support in finding a venue.
In addition, they will be provided with mentor support through the WOS network of established artists.
Janette George, Director, said: "Finding your place in the creative arena can be a challenge, irrespective of whether you are emerging from tertiary education or making a lifestyle change from employment.
"Our aim is to offer a support network for those on the journey to become an artist and we hope that these bursaries will enable new talent to fully take part in our Summer Art Weeks event."