A fundraiser has put her best foot in a challenge that saw her walking for more than 23 miles for a Warwick-based charity.
Last Friday (March 3), Alex Pearson, community champion at the Morrisons store in Leamington, and her two dogs Archie and Chester took on their third walk for the charity Safeline.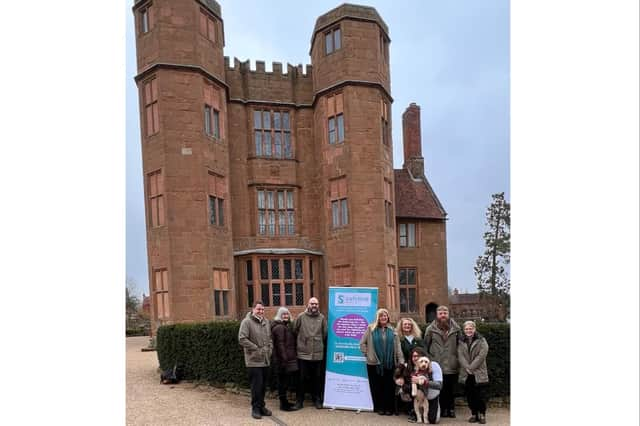 They walked from Kenilworth Castle to Stratford and were joined by Rachael Stevens, the charity development coordinator of Safeline.
Alex planned a route, which had them walk from Kenilworth Castle to meet the Mayor of Leamington, Cllr Nick Wilkins, who then walked towards Morrisons where Alex works and was met by the staff.
They walked to Warwick, where the Mayor of Warwick, Cllr Parminder Birdi Singh welcomed the team.
After a few stops at The Old Coffee Tavern, Jacks Shack and Dough and Brew, which all support Safeline, they went to Warwick Racecourse where the High Sheriff of Warwickshire David Kelham was waiting with some of the team from the racecourse.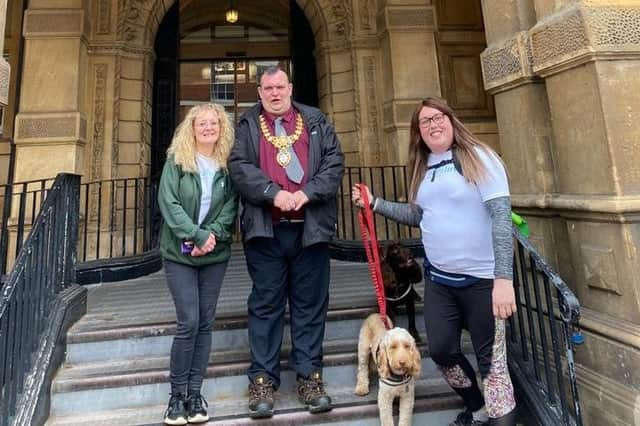 They walked to Stratford, where the Mayor, Cllr Gill Cleeve was waiting at the town hall.
The team finished the 20-mile walk at foundation house but due to the large amount of donations given to them, they added just over three more miles.
Alex said: "The support on the day was fantastic, it was great route full of lovely views.
"The weather was kind but it was so cold, at least it kept my water cool. Archie and Chester are amazing and they loved it.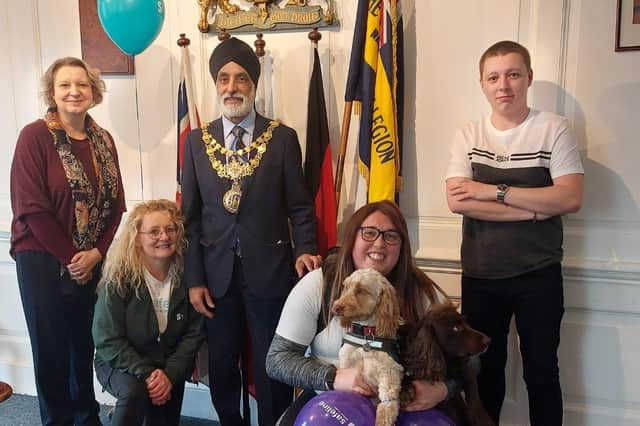 "When we got to Gill in Stratford they were tired and were treated like royalty.
"Archie loved the rug infront of the fire whilst Chester enjoyed the fuss and treats and being nosey in the mayors parlour as I had the best cup of tea in the world.
"The Mayors and High Sheriff really added to the support with their kind words and encouragement.
"This was my third walk for this amazing charity and I wouldn't know how important it is until I spoke to Rachael and the team.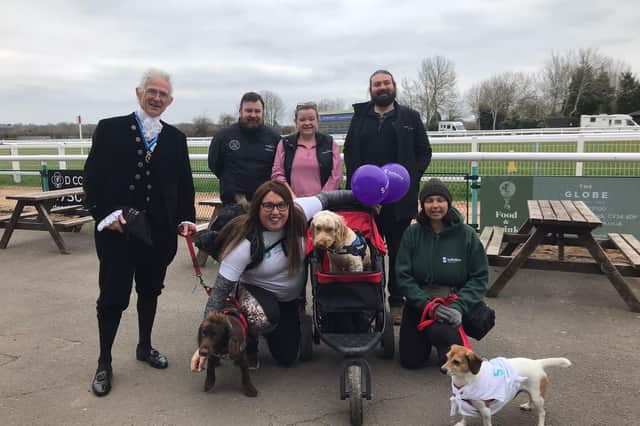 "Hearing the stats and have people come up to you to say thank you Safeline is just heart-breaking. It's true, it's a privilege if you haven't heard of Safeline."
As of March 3, the team raised £820.36 from the walk and Morrisons will match the funds.
Rachael Steven from Safeline, said: "There's no one better to talk to on a 20 plus mile walk with than Alex – the amazing community champion from Morrisons Leamington.
"We were aiming to cover 20 miles starting at 9am – but ended up covering just over 23 miles which was a fantastic achievement from us all – together with our doggy companions.
"I feel so proud to have been able to take on this huge challenge and finish it whilst still smiling with Alex.
"Huge thank you to everyone for their time, thoughts, supports and donations – really does mean a lot to us and to have raised £820 (by Friday) is just amazing and will help us support many people who have been affected by sexual violence/abuse."