Giant solar farm near Leamington Football Club approved - but only just
Around 89 hectares of land across two plots near Harbury and Ufton will be covered by solar panels for up to 40 years
Watch more of our videos on Shots! 
and live on Freeview channel 276
Visit Shots! now
Permission for a giant solar farm to power 14,500 homes has been granted on farm land little more than a mile away from Leamington Football Club – albeit by the tightest of calls.
Around 89 hectares of land across two plots near Harbury and Ufton will be covered by solar panels for up to 40 years after the vice-chair of Stratford-on-Avon District Council's planning committee Councillor Stuart Keighley (Lib Dem, Long Marston) used his casting vote to decide.
Two councillors had dropped out of the debate due to conflicts of interest, including chair Councillor Louis Adam (Lib Dem, Southam North & Long Itchington) who had delivered an opinion as a ward member when a previous version was rejected by six votes to five in October 2022.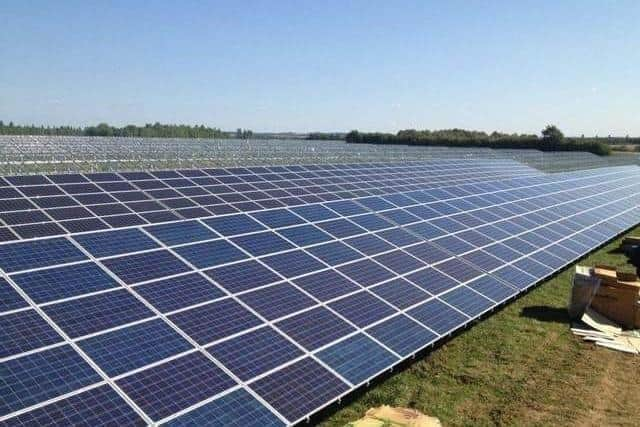 The vote this time was tied at three all with a seventh councillor abstaining – not voting either way – leaving Cllr Keighley to decide.
Planning officer Joseph Brooke – the council's professional employed to advise on such matters – had recommended approval but a 174-signature petition, 65 letters, both parish councils and Ramblers Warwickshire all objected.
The biggest concerns centred around harm to the surrounding landscape and the loss of farmland used for wheat production.
Applicant Leicestershire Solar One Limited's revised version removed solar panels from two fields, created tree buffers around the edge of other fields and increased the amount of hedges to be included.
Objectors maintained this did not adequately address their concerns but the district's conservation officer ruled that only "less than substantial harm" had been identified with environmental and landscaping officers filing no objections.
On that basis, Mr Brooke ruled there would be "minimal cumulative impact" on the environment when considering how many solar farms are popping up locally, another bone of contention for some councillors and the objectors.
The fine balance continued to divide opinion.
Councillor Anne Parry (Con, Wellesbourne North & Rural) said: "It is a bit deja vu.
"I don't have a problem with the solar farm on the Harbury side, with Fosse Way I think that is perfectly appropriate, but I do have a problem with a wrap-around solar farm abutting Ufton village.
"We refused it for all the right reasons last time and in my view the changes haven't been significant.
"One of the things we said was that we wanted to remove the area around Ufton. They have paid lip service to that by removing panels in two of the fields but it still abuts the village.
"I still feel there is an adverse impact on the character of the landscape and in addition, this part of the district is becoming solar city."
Cllr Keighley was among those to be swayed the other way.
"Having been to the site, I can see there is some impact from the solar panels on that field, although I think they are probably less than significant," he said.
"The loss of agricultural land is temporary and it is imperative for us, having declared a climate emergency, to support solar farms and renewable energy – that is made very clear in the officer's report.
"The benefits outweigh the harm to the landscape."