A group of volunteers were honoured for their service at the Community Spirit Awards last month, jointly organised by Royal Leamington Spa Rotary Club and The Kingsley School.
The ceremony on April 27 has been a joint initiative between the Rotary Club and The Kingsley School since 2017.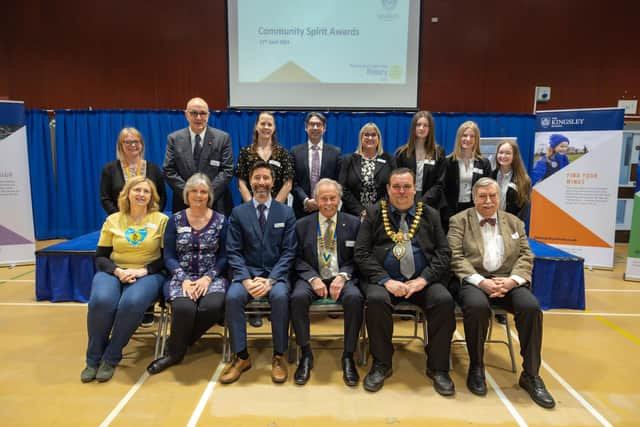 James Mercer-Kelly, headteacher at the Kingsley School, opened the awards ceremony, and welcomed Brian Bassett, President of the Rotary Club, who then spoke about the origins and success of the Community Spirit Awards scheme.
Warwick Schools Foundation Principal, Richard Nicholson, stressed the importance of continuing collaboration opportunities such as this, before Jasmine Spencer, a student at Kingsley, shared her experiences of volunteering for local charity 'Kissing it Better'.
Leamington Mayor, Cllr Nick Wilkins presented the awards to each of the nine recipients.
~ Morgan Bethell, Sophie Clarke and Grace Green – who as Year 13 pupils worked to support and coordinate donations for Ukrainian refugees, particularly essential food, clothing and bedding items. Kingsley minibuses were also used to take students and donations back and forth until all were safely deposited.
~ Georgie Acton – an ex-Kingsley School pupil, and now employee, who has raised thousands of pounds for charities by taking part in numerous marathons, including the London Marathon several times. This year she will be completing the Race to the King ultra-marathon (64 miles) for Leukaemia Care in memory of a colleague from The Kingsley School who sadly died in 2023.
~ Fern Arnold – who often works behind the scenes to improve local biodiversity and supporting climate mitigation. In 2020 she established Bee Friendly Kenilworth.
She became chair of Bee Friendly Kenilworth and successfully led a bid to secure 'Bee Friendly Town' status for Kenilworth in 2022. Fern is now supporting the formation of similar groups in Warwick, Leamington, Cubbington and other places in Warwickshire.
~ Anne Cotton – who devotes her time to improving the lives of vulnerable people. She was one of the first members of PhonePals, a community response to the isolation of elderly and vulnerable people during the Covid pandemic.
Anne also made 10 to 15 calls per week herself. Many volunteers have continued to make calls.
~ Nigel Milne – has supported the Warwick District Citizens Advice Bureau for over a decade. Nigel, though an unpaid volunteer, had become de-facto the IT Manager for the Bureau.
~ John Plumb – was a volunteer trustee and director of Warwick District Citizens Advice Bureau from 2012 until 2017 when it merged with Stratford to form Citizens Advice South Warwickshire.
His input was critical during the merger which resulted in a more resilient and cost effective advice service for people in South Warwickshire and he continued with the new organisation until the end of 2021.
~ Lucy Wheeler – for her contribution as a kitchen volunteer at Leamington's Helping Hands community project which aims to offer practical help, emotional support and on-going mentoring to those facing homelessness, domestic abuse, low family income, addiction and related mental health problems. Helping Hands is very aware of the impact Lucy has made, not only within the charity itself but on the local community.