A Kenilworth care provider is back trading again in the town centre after recovering from a major flood over Christmas.
Kare Plus, which opened in Talisman Shopping Centre in October 2022, provides care to people across Warwickshire, Coventry, and Birmingham, and also provides staffing for larger care homes and other healthcare establishments.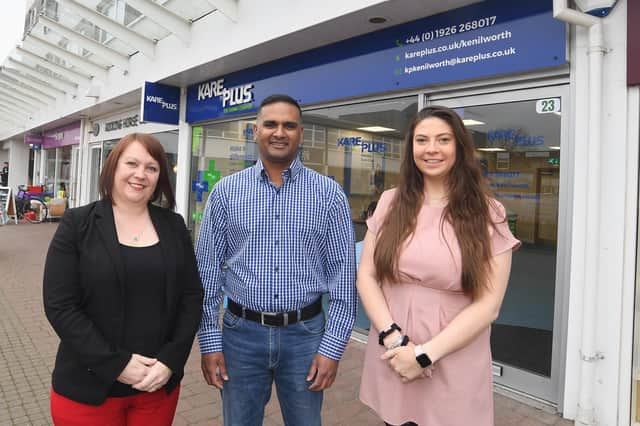 But over the Christmas period, when office manager Tracey Frisby took a call from operations executive Eliza Brown who walked in to find the entire ground floor flooded from a burst pipe.
"The whole of the downstairs area right the way through to the back office was completely flooded – the chairs, the tables, everything," Tracey said.
"The smell was awful and the damage was extensive so there was no way we could work in the office.
"We had to try and work from home as best as we could while the damaged items were moved and the clean-up process started.
"But not all of our customers realised this, so we definitely lost business in the time we were closed."
Developers of Talisman Shopping Centre, Discovery Properties, together with site managers Bromwich Hardy, offered Kare Plus temporary space in an empty unit while the clean-up operation was taking place.
Tracey added: "In the end, we decided to carry on working from home as we felt it was a slightly better solution for us, but we really appreciated the gesture.
"It's taken almost two months, but now that the ground floor is finally clean, we're now back on our feet and ready to start again."
Kavi Pryagh, director of Kare Plus Kenilworth, said: "We're so glad we're finally trading again, and we were very grateful to Discovery Properties and Bromwich Hardy for their offer of alternative space even though we decided not to take it.
"Even in the short time we had been based in Kenilworth, we were seeing plenty of demand and it's fair to say the business had been very successful.
"We've only reopened for a short time, but we're already seeing our customers coming back strongly, which is a great sign.
"We're looking forward to having a second chance in Talisman Shopping Centre and helping people within the West Midlands access the care they need."