Kenilworth charity worker could be forced to move out of home after partner's suicide
Jack Taggert left no will for his fiancée Shannon Madden who is unable to claim on the couple's insurance.
Watch more of our videos on Shots!
and live on Freeview channel 276
Visit Shots! now
A bereaved Kenilworth charity worker is desperately fighting to remain in her home after her partner took his own life.
Jack Taggert kissed fiancée Shannon Madden before leaving for work in January but never returned home.
The 27-year-old from Birmingham lived with Shannon, his eight-year-old son and their dog Lily.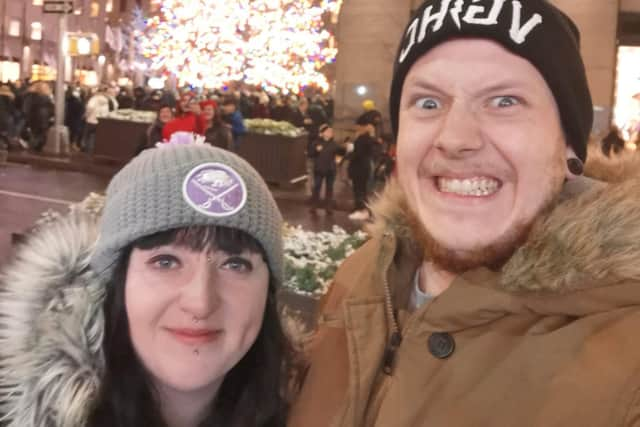 But now Shannon, who works at Dogs Trust Kenilworth, may be forced to move from her home as Jack left no will and she is unable to claim on their insurance.
Family friend Scarlett Miller said: "Overnight Shannon's house went from a loving home of three to a lonely one.
Her step-son, who she had cared for since he was six months old, had to go to live with his mum who is a plane ride away.
"Due to Shannon and Jack only being engaged and not married, and Jack not leaving a will, Shannon has no rights by law, cannot claim on any form of insurance and isn't entitled to anything. Shannon is being made to feel like a stranger to her own fiancé.
"Shannon's future has been taken away and soon her home could be too, as Jack was the main provider."
To buy Shannon out of the help-to-buy scheme they used to buy the home she will have to pay £50,000.
And Scarlett has launched a fund-raiser to help towards that amount and to raise awareness about suicide.
Shannon said: "People do not realise the extra effects that suicide can have on close family and friends. I am living a nightmare and hate asking for help but sadly due to outdated laws I have no other choice and am forever grateful to my friends for putting this in place to support me.
"I strongly advise people to check life insurance policies and to write a will, no matter how young you are.
"No one should have to go through the loss me and Jack's family are currently experiencing
"I would also like to urge people to speak up in crisis, especially men.
"I would give anything and everything to have Jack back but I know that's not possible and I now need to learn to rebuild my life as one without him by my side."
Scarlett added: "Shannon is going to have to sell the home that her and Jack bought together. In an attempt to stop this from happening I'm hoping that we can raise enough money to buy Shannon out of the 'help-to-buy' scheme, which is currently only allowing one devastating outcome, on top of the life-altering events that have recently taken place.
"We are trying to help Shannon keep the place they worked so hard for, and give her the opportunity of continuing to build her life."
Jack took his life just days before his birthday, but the family believe the recent loss of his father deeply affected him.
Scarlett added: "We think the passing of Jack's dad had a huge impact on him and his ability to cope. He didn't speak much about his emotions and his death was extremely sudden and unexpected - he went to visit family a day before and was laughing and talking as normal.
"We want to advocate that people speak out when they're in need, so that no one has to face the sheer amount of loss Shannon currently is.
"Jack was a son, brother, father and immensely loved by everyone who is feeling a horrendous pain since his passing."