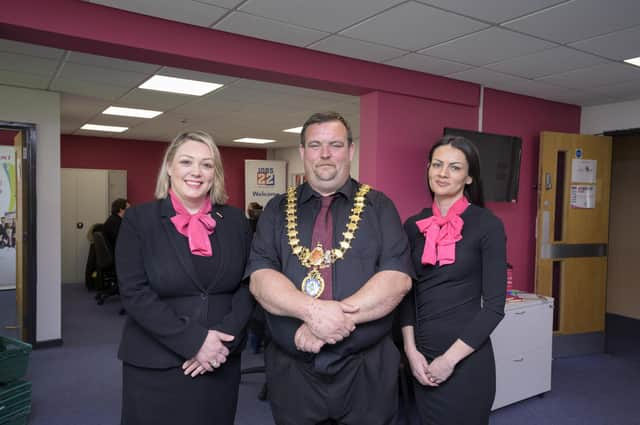 A highly successful scheme to help unemployed people across Warwickshire get back into meaningful work received a visit from Leamington's mayor – who had struggled with unemployment and homelessness himself before his life in politics.
In what was one of his last mayoral visits before his term of office came to an end earlier this month, Cllr Nick Wilkins visited training provider PET-Xi's office at Royal Leamington Spa College – part of college group WCG – which was opened in 2021 to deliver the government's Restart Scheme for unemployed people in Leamington, Warwick and Kenilworth.
The Restart Scheme provides tailored support to individuals who have been claiming Universal Credit for nine months. It gives participants the tools, technology, and coaching they need to jump-start personal development and succeed in finding employment.
And Cllr Wilkins met those on the scheme who were updating CVs and applying for jobs, as well as improving their numeracy through the government's 'Multiply' Programme which is also been delivered by PET-Xi Training across the region.
He said: "It was fantastic to meet people on the Restart Scheme and see how much difference it is making to their lives.
"When I was younger, I had to sofa-surf for a while, which meant I found it difficult to find permanent work. Most of my time was spent volunteering, which gave me focus. Luckily, I was able to turn things around.
"So seeing first-hand the hard work PET-Xi is putting in to help so many people in the area find work is incredibly pleasing. I hope plenty more people are able to take advantage of this fantastic scheme to secure a meaningful job."
Those on PET-Xi's Restart Scheme are given support to improve their CVs, refine their interview techniques, as well as helping them understand their skills and interests to find jobs that are most suitable for each individual.
Fleur Sexton, CEO and Co-Founder of PET-Xi, said: "In terms of securing future jobs for participants, the Restart Scheme in Leamington is one of the most successful, and it was great to have Cllr Wilkins visit the office to see for himself all the work we're doing.
"I think PET-Xi's attention to detail when it comes to working with each person one-on-one, especially when it comes to understanding their skills, is a big part of that.
"For example, those who struggle with their maths can take part in the Multiply Programme, and its partnership with WCG means participants can be referred to their courses too.
"And having the office here at the college makes a real difference as many of our participants can access it far more easily."
PET-Xi is an official delivery partner of Jobs 22, for the delivery of the Restart Scheme, that forms part of the government's Plan for Jobs.
Russell Baker, contracts and projects Officer at Jobs 22, said: "PET-Xi has done incredibly well with the Restart Scheme in Leamington.
"The job market has changed in recent months with vacancies becoming harder to fill, so the support PET-Xi provides to people looking for work is invaluable."
For more information about any of PET-Xi's free training courses call 024 7642 0313 or email [email protected]