As the war in Ukraine ever tightens it's grip, causing people to lose loved ones, jobs, homes and sometimes everything they own. One aspect of the war which often goes unnoticed is the plight of the children who's lives are irreparably damaged by the catastrophe of war.
This tragedy of thousands of children has inspired us to reach out this Easter to let these children know they are not forgotten.
The Polish Centre has been at the heart of providing essential relief to Ukraine since the onset of war over a year ago.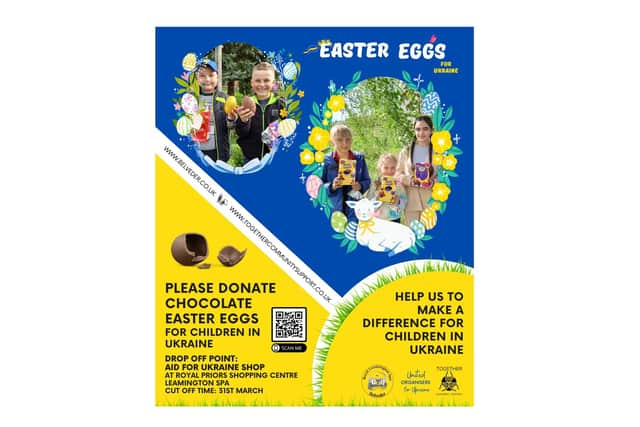 Following a massive success of the Christmas presents appeal when over 1000 Christmas presents were sent (27 pallets) and with Easter just around the corner, The Polish Centre with it's partners LKQ Euro Car Parts Warwickshire County Council Warwick District CouncilWarwickshire Gin Company Windmill Hill Brewing Company Stratford On Avon Fishing and Outdoors Ltd Morrisons Leamington Spa Community 1 Mill Street Rotary Club of Warwick, England Boden are excited to invite local residents to participate in a chocolate Easter egg collection for children in Ukraine.
Easter is a special time for families and communities to come together and celebrate. Unfortunately, not all children have the opportunity to enjoy the festivities and treats that come with this holiday.
That's where we can help!
We would like to invite you to participate in our chocolate Easter egg collection.
It's simple - all you need to do is purchase chocolate Easter eggs and drop them off at our designated collection points.
Our Main collection point is our "Aid for Ukraine shop" at The Royal Priors Shopping Centre in Leamington
The Morrisons in Leamington Community team has also set up a dedicated egg donation station.
We will be accepting Easter egg donations until March 31
People who prefer to donate money and let us buy the eggs can use link below:
Our sweet lorry will leave on April 3.
The war in Ukraine is having a devastating impact on the lives of innocent children, they are being stripped of all the normal things children need to live a normal life.
Your contribution will make a significant impact on the lives of these children and we appreciate any support, no matter how small, you can offer.
Together, let's make this Easter a little sweeter for the war orphans of Ukraine who need it most.
Many thanks for your generosity and support and for making a big difference to the young victims of this horrendous war.
We look forward to celebrating Easter with you in this meaningful way.