The Leamington Polish Centre has been given an award for its work in helping people in Ukraine since the Russian invasion last year.
Warwick Rotary Club presented its Meritorious Award to some of the team from the centre on February 8.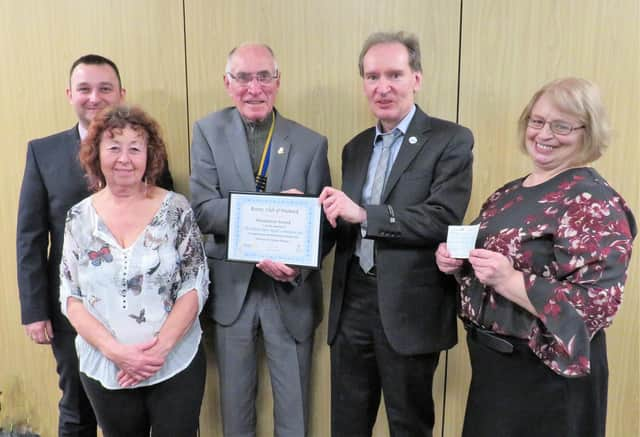 President Keith Talbot welcomed their leaders Dr Stanislaw Librowski (chairman), Dawid Kozlowski (secretary), Izabella Topalinska (treasurer) and Alex Willson (a volunteer) to an open evening to celebrate their work.
The president presented the award, and a cheque for £200, for their humanitarian efforts which have earned the admiration of the community.
The citation read by Rotarian Jackie Crampton said: "When the Russian invasion started the Polish centre immediately started an appeal for help and were inundated by generous donations.
"So much arrived they had to move to a warehouse in Harbury Lane, from where over 180 tons of medical supplies, household goods and food were taken directly overseas by road.
"With the support of local companies – Jaguar Land Rover, Europarts (LKQ Euro Car Parts) and others, Dawid and their team have delivered to over 20 towns and cities across Ukraine; supported summer camps for Ukrainian children; and delivered about 1,000 individual Christmas presents from Santa.
"Eight vitally needed ambulances have also been sent."
Here in the UK, the Polish centre has provided support for Ukrainians arriving in the country with Alex teaching English to those who need support.
A shop has also been opened in The Royal Priors Shopping Centre in Leamington where goods, including specialist vodka, are sold to raise money.
Warwick Rotary also helped the centre last year with a surplus generator at Christmas to send the nuns running an orphanage and has confirmed further funding for battery pack and converter to ensure the nursery can maintain power during power cuts.
Thanking the club for their support Dawid showed pictures of the damage done to neighbourhoods, some of the ambulances being unloaded at hospitals in Ukraine and the children opening their presents.
Concluding the evening Dr Librowski said that they still needed more resources, and sponsors, to support the victims of continued aggression.