On New Year's Eve the Royal Spa Centre wrapped up the 2022 edition of its annual pantomime, Cinderella.
The theatre said the 2022 event was its most successful ever – selling more than 25,000 tickets during its run.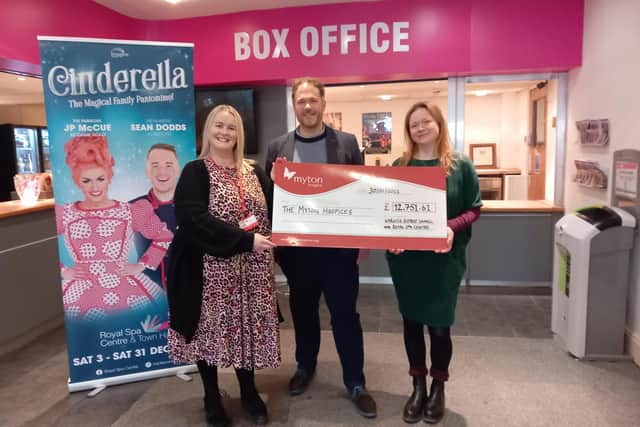 The Myton Hospices was selected as the Royal Spa Centre's charity partner for Cinderella, and their volunteers worked at every performance taking donations.
They were able to raise £12,751 across the run.
The money will be used for general running costs at the hospices and contribute towards its 'Cuddle Bed Campaign' to raise money to buy a Cuddle Bed – a hospice bed, but double rather than single so families can lie alongside their loved ones.
Charlotte Ingram, director of income generation at The Myton Hospices, said: "We are so very grateful to everyone involved in this truly wonderful festive fundraising for Myton.
"To the Royal Spa Centre for choosing us as its charity partner, to the wonderful volunteers who collected at each and every one of the 34 performances of the fabulous panto, and to the amazingly generous people who donated such a fabulous amount of money.
"We simply cannot do what we do without this kind of wonderful support – so thank you, on behalf of everyone at Myton, and, perhaps most importantly, on behalf of our patients and their loved ones whose lives your support makes such a difference to."
A spokesperson from Cinderella's production company, Imagine Theatre, said: "We are thrilled at the success of the Royal Spa Centre panto which goes from strength the strength each year and is now a regular part of Christmas for so many people.
"We strive to offer a top class family friendly panto at affordable prices for the people of Warwickshire and the fact we have broken records this year is thanks to the hard work of everyone involved in the productions over the last few seasons.
"We are already busy planning for Jack and the Beanstalk and cannot wait to bring this 'moo-vellous' panto to the Royal Spa Centre stag in December."