Mark Watson's Carpool Comedy Club and Drive and Dine at Stoneleigh Park this week
There's still time to buy tickets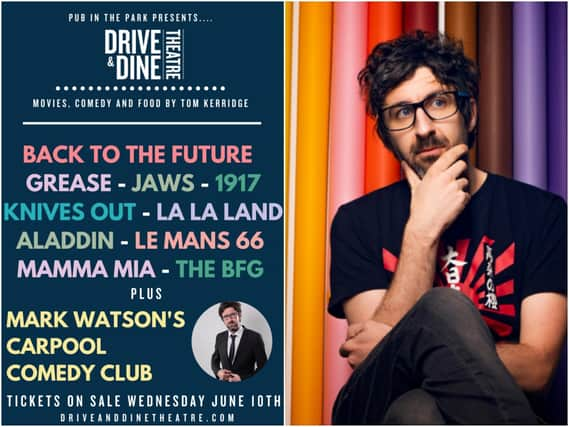 Tickets are still available for the Drive and Dine experience being held at Stoneleigh Park this week.
Pub in the Park and the Tom Kerridge team are taking a drive-in theatre experience around the country featuring a menu created by the chef.
Initially the Drive and Dine event was scheduled to take place at Warwick Racecourse in July but on June 25 it was announced it had been moved to Stoneleigh Park.
Part of the event is Mark Watson's carpool comedy club , which also has tickets available.
The comedians heading to Warwickshire will be: Mark Watson, Ed Byrne and Daliso Chaponda
The drive and dine event will be taking place at Stoneleigh Park from July 21 to July 26.
Speaking about the Drive and Dine events, Mark Watson said: "It has been a long, miserable exile from live comedy for acts and audience, and these shows were a step into the dark: literally, on the first night, as the heavens opened and the hazard lights came on.
"The response from the audiences has been not just warming but really emotional at times.
"Live comedy is about creating community and that isn't an easy thing to do in these times.
"It's an act of collaboration between comics and fans and it's put smiles back on faces for the first time in a while. We're really proud, and grateful to all those who've supported it."
Tom Kerridge's Pub in the Park was due to be held in St Nicholas Park in June but was postponed due to the pandemic.
Despite this the team were hoping to reschedule the event for September but the Warwick event looks to be cancelled completely for 2020.