The incredible work of the Polish Centre to support the war effort in war-torn Ukraine was marked on April 28 by being awarded the Mayoral Award by Leamington Mayor, Councillor Nick Wilkins, writes volunteer David Harrop.
The Polish Centre through their charity, Aid for Ukraine, have supported not only the people and hospitals of Ukraine, but also the war orphans now living in a monastery in central Ukraine run by the Sisters of St Joseph.
Aid for Ukraine has raised over £120,000 in the last year to fund right fully equipped ambulances to assist the hospitals caring for the victims of the Russian invasion in war torn Ukraine. Previously these hospitals only had 50 year old ambulances to ferry their injured and dying.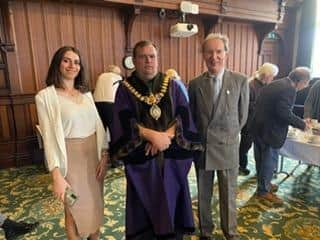 The Ukraine Appeal shop, in the upper mall of the Royal Priors shopping centre has been running since before Christmas with all profits from the sales of its goods going towards the ongoing appeal to buy ambulances. The shop brings together volunteers from all cultures and nationalities supporting Aid for Ukraine.
They hope to provide two further ambulances to Ukraine hospitals for 2023 and the charity is now on its way to this fundraising target of £11,000.
Other achievements include the Secret Santa campaign at Christmas which supplied presents to all the war orphans housed in the monastery and a recent Easter egg appeal, which brought Easter eggs and smiles to those children who no longer have parents or family to care for them.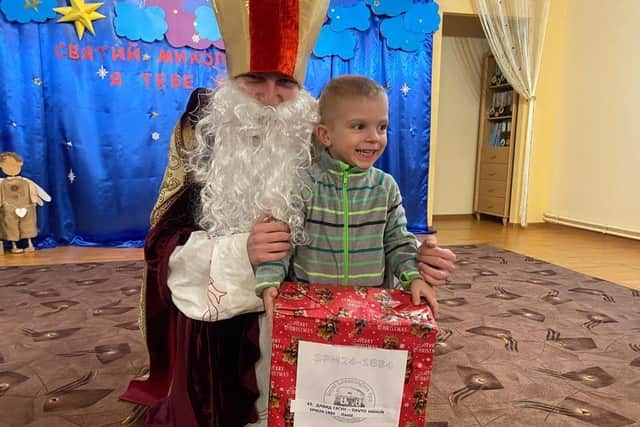 The little boy in the picture is Davyd, about to open the box of lorries I bought him for Christmas using the Secret Santa scheme.
To receive the Mayoral Award is a great honour and tribute to the work of the Polish Centre and Aid for Ukraine and includes the work of local volunteers, companies and organisations that are supporting their tremendous work.
On May 21, at the 9th Polish History Conference held at The Royal Pump Rooms in Leamington, two of the Sisters from the monastery are coming over from Ukraine to talk about current conditions there and their work with the war orphans.
Entry for the public is free.
The need is constant and as the war takes its toll the need increases every day.