Equine students at a Warwickshire college group have completed a unique horse coaching qualification.
Rachel Courts, Grace Debruyne and Ellie Rowe, all students on the BSc Hons Equine Performance Coaching course at Moreton Morrell College, passed their 1st4Sport Level 1 Award in Equestrian Coaching (General Riding).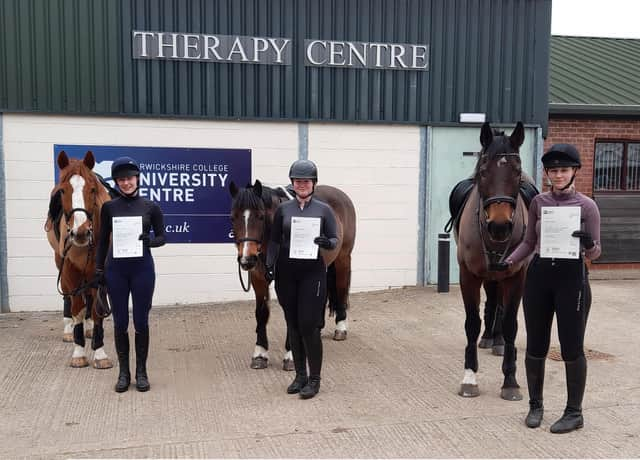 Moreton Morrell College, which is part of college group WCG (formerly Warwickshire College Group), is the only provider in the UK outside of a British Equestrian Member Body to offer the industry recognised qualification.
The course, which was recently integrated as an option module in the Equestrian Performance Coaching course, is a mixture of classroom-based and practical learning in the coaching of general riding.
The college also supports students to progress and successfully complete Level 2 qualifications, which deepens their knowledge and experience, qualifying them to coach in general riding or specialised equestrian disciplines.
Grace Debruyne, 19 from Whitnash, said: "The coaching experience has boosted my confidence both in and outside the livery yard which I work at alongside my degree.
"In the future I am hoping to use my coaching qualifications to move forward into the equine industry."
Rachel Courts, 19 from Nuneaton, said: "I had no experience in coaching before the course so the knowledge I gained has been invaluable, especially the practical elements of working with the horses in a coaching context.
"Successfully completing the qualification has meant I was able to become a junior coach at North Warwickshire Pony Club and I am hoping further progress into saddle fitting or coaching."
Ellie Rowe, 19 from Great Alne, added: "Getting the hands-on experience through the course was great and being able to apply my classroom learning to my session outdoors has really improved my abilities.
"Completing the course has given me further opportunities to set up my own freelance business offering coaching and other equine services like clipping and schooling."