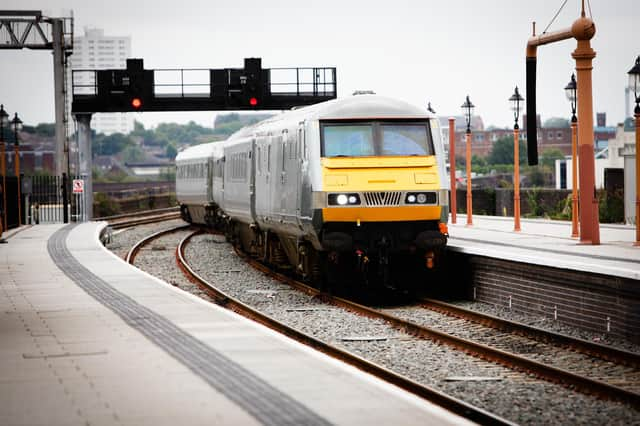 Rail operators are warning Coventry City or Luton Town fans travelling to the Championship Playoff Final at Wembley Stadium on Saturday to expect busier journeys than usual.
Chiltern has said that customers should allow plenty of time for their journey, and make sure that they check ahead before travelling. If services are particularly crowded, some customers may not be able to board their intended train and will have to board the next available service. Some queuing systems may be implemented to manage crowds safely. A queuing system will be in place at Wembley Stadium station after the match for return travel.
If customers not attending the Playoff Final do not wish to travel due to the expected levels of crowding, tickets will be eligible for travel on Sunday May 28 or Monday May 29.
Fee-free refunds will also be available.
An amended timetable is in place, with pre-planned added Saturday capacity from the May 2023 timetable with approximately 2,000 extra seats and two additional services between Birmingham and London for travelling supporters, which will also call at: Warwick Parkway (10.36), Warwick (10.41), Leamington Spa (10.47), Banbury (11.07) to Marylebone, arriving at Wembley Stadium at 12.03 and
Warwick Parkway (11.44), Warwick (11.48), Leamington Spa (11.54), Banbury (12.12) to Marylebone, arriving at Wembley Stadium at 13.18.
West Midlands Railways has also said that services between Nuneaton, London Euston and Coventry and London Euston are expected to be very busy, particularly between noon and 3pm and from 7pm onwards on the day
Passengers are advised to allow plenty of time for their journey and queueing systems may be in place at key stations throughout the day to help keep passengers safe.
With a kick off time of 4.45pm, it is also recommended that passengers not attending the match consider travelling at a different time where possible to avoid busy periods.
Jonny Wiseman, WMR customer experience director, said: "Services are expected to be extremely busy on Saturday May 27 as thousands of Coventry City fans head to Wembley.
" I would like to advise passengers to travel early ahead of the game and passengers not attending the football to consider travelling at a different time where possible.
"It is expected to be another hot weekend and I would also advise passengers to bring a bottle of water, keep hydrated and stay safe."
The match between Coventry City and Luton will decide which team is promoted from The Championship to the English Premier League – the playoff final has become known as 'the richest game in football' because of the amount of money clubs can earn by winning it.