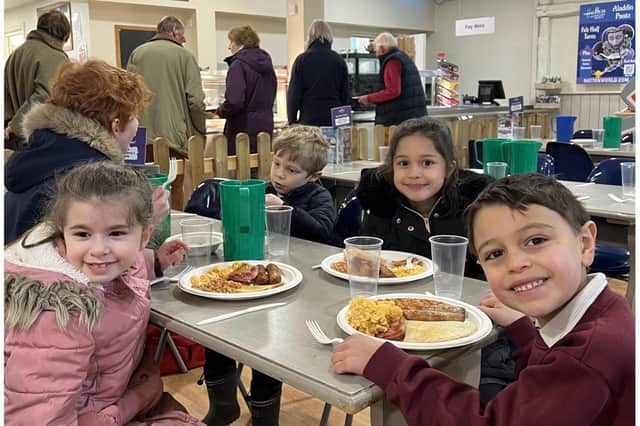 On Tuesday (January 24), children aged five to six from Ferncumbe Church of England School in Hatton were collected by tractor and open-top trailer and transported to the attraction, where they learnt about eating a healthy breakfast.
In its 17th year, this initiative is supported by the school, National Farmers Union, and Hatton Adventure World.
The breakfast was served by members of the Warwickshire branch of the National Farmers' Union (NFU).
Charlotte Forbes, a teacher from Ferncumbe School said: "We are lucky to have Hatton Adventure World on our doorstep and for the children to visit the farmyard each year.
"Many children believe food comes from supermarkets, so it's important they know where food comes from and the link between the animals they feed and what they eat.
"It's important they take responsibility for their healthy food choices at home and school."
Alice Latham, assistant farm manager at Hatton, said: "Hatton Adventure World once again enjoyed working with the NFU and feeding a hearty breakfast to the pupils.
"It's important to explain why breakfast is so essential, especially at this time of year when children are susceptible to illnesses".
Danny James, NFU group secretary, Central Warwickshire and Henley in Arden added: "The NFU are delighted to encourage children to eat a good breakfast to start their day.
"Going to school having eaten a nutritious breakfast gives children so many health benefits and helps them perform well in the classroom".
After breakfast pupils walked around the farmyard to feed and pet the animals.