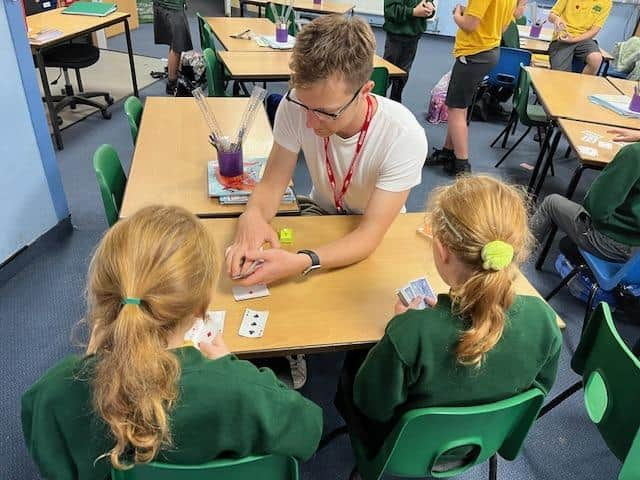 A young South Warwickshire magician is using his skills to help inspire school children.
Angus Baskerville, who was born in Warwick and went on to live in Kenilworth at age 15 after living in South Africa for 12 years, has been hosting magic workshops during lunchtimes and as after school clubs in schools across the area.
The 27-year-old, who now lives near Stratford, performs as a magician at events but has also been running classes for one hour on a termly basis.
Recently, Angus has been teaching pupils at Cubbington C of E Primary School how to do simple magic tricks.
Angus is also currently teaching classes in Stratford and Coventry.
When asked what inspired him to start in-school lessons, Angus said: "I had such a tough time at school, spending many lonely lunch times wandering around the playground with nothing to do and feeling excluded from my peers.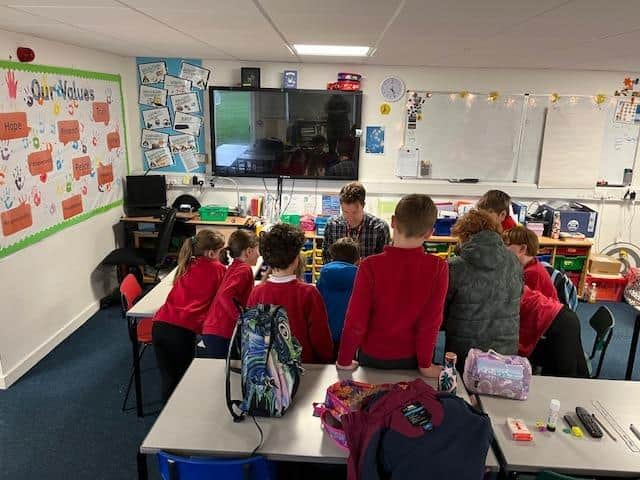 "When I found magic, everything got easier for me and I know that magic can be much more than just another after school club.
"It is an amazing tool to help students who learn differently to engage with others, but also to build self-esteem and focus which will encourage them to approach their work with renewed purpose and positivity.
"The children are very enthusiastic and I'm amazed at how quickly they are grasping the tricks.
"A number of them have had magic sets for Christmas and some want to be magicians when they grow up.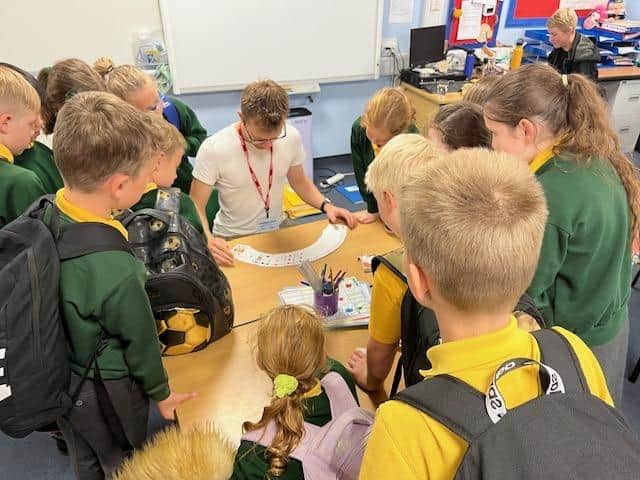 "It feels great that my own passion can inspire other young people to find theirs and to benefit from magic like I have.
"I consider myself very lucky to have made a career out of my passion, as work is a big part of life and I know many people live for their holidays, and work is often a drudge for them."
Juliet Jones, headteacher at Cubbington C of E Primary School, said: "Angus approached Cubbington to see if we would consider starting an extra curricular magic club.
"He performed an assembly for the whole school and everyone, including the teachers, were amazed at how talented he was.
"The after school club was immediately full and each week the children learn a new trick using everyday props such as coins, cards and paper.
"The children practise on each other and then go home and wow their parents.
"It has been a great addition to the wide range of clubs that we offer at Cubbington and Angus' enthusiasm and passion for inclusion is infectious."
Angus, who has Asperger's and ADHD, is also glad that he can use his passion to help children who may be struggling with confidence or anxiety issues and for those who are autistic or neurodiverse.
"Magic is a fun way to get into mindfulness and something like this is much more preferable than turning to medications to help with anxiety and poor mental health," said Angus
"Learning magic keeps you in the moment and children have a real sense of pride and fulfilment when they have mastered a new trick and can show it off to their parents, teachers and friends.
"I am not expecting everyone to be interested in magic per se. It's about finding your own special interest or passion which can be used to help you with your school work and life in general".
"However, if magic lessons can help open children up to feeling better about themselves, then they will be in a better mindset to find what really ignites them.
"Autism is a spectrum and I don't like the term "Autism Spectrum Disorder".
"As was seen in the recent Chris Packham documentary "Inside Our Autistic Minds", having autism does not mean a lack of intelligence.
"It is a different wiring and with that comes some challenges but also some really inspired lateral thinking and that is what the world needs right now.
"Society is missing out on some fabulous talent because children are not receiving the support they need to help them find their gifts.
"I have a great level of understanding of Asperger's and ADHD in particular, which comes from lived experience and am extremely passionate about raising awareness of autism and how mental health can be affected if we are not understood.
"If I can help change the life of just one autistic or neurodiverse individual by teaching magic skills, it will be worthwhile.
"I would also like to mention the fabulous charity 'Anna Kennedy Online' for all the work they do for autism awareness.
"They are always available to talk to parents and autistic individuals who are in need of support and every penny goes to help families affected.
"Charities like this really need our support to keep running and I will be forever grateful to Anna and her team for helping me launch my magic career to the next level at 'Autism's Got Talent' in London."
"I am hopeful that, before long, I can coach one of my autistic magic students to perform on the show like I did. However, anyone with a diagnosis and a special talent can apply and it will be a life changing experience."
As well as working in primary schools, Angus also runs workshops and clubs during holidays and half terms and is also keen to help pupils in secondary school.