A spirit-maker in Leamington has shown tremendous support for the town's appeal to provide humanitarian aid for war-torn Ukraine.
The Warwickshire Gin Company, at the Victoria Business Centre in Neilston Street has made 30 bottles of limited edition Ukraine Gin for the Leamington Polish Centre to help raise funds at the Aid for Ukraine charity shop in the Royal Priors shopping centre.
Funds raised from the charity shop's in-store sales will support Leamington Polish Centre's Ambulances for Ukraine initiative, which aims to provide two further ambulances to civilian hospitals in the country, building on the five it sent over last year.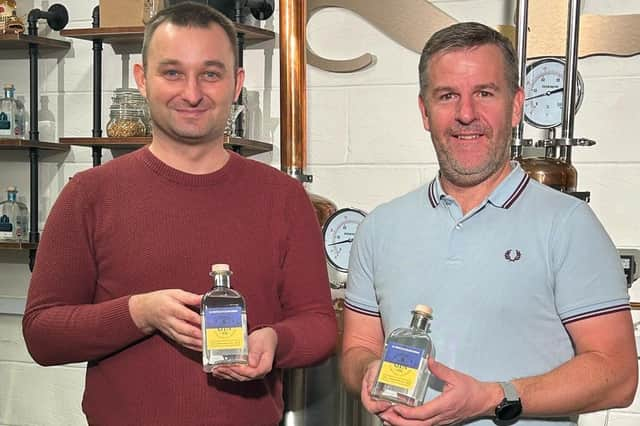 The shop at the Royal Priors Shopping Centre has been running since the end of last year, and proceeds from the gin, other goods and online donations are helping the Leamington Polish Centre on its way to its £11,000 fundraising goal.
Dave Blick, the owner of The Warwickshire Gin Company, hopes that the bottles will encourage people to give what they can through additional donations.
He said: "We have supported the Leamington Polish Centre since last year by providing tables and prizes to support fundraising events, and we jumped at the chance to donate some of our stock to help the latest fundraising effort.
"Sadly, the need the for ambulances at Ukrainian civilian hospitals is no less than it was a year ago. I'd struggle to think of a more worthwhile cause, and if our initial batch sells out, we'll be providing another crate to ensure a steady flow of fundraising.
"As well as our latest donation of limited-edition gin, our full range of spirits are available in store, with every penny raised from sales going to the Leamington Polish Centre."
Glasses and carafes from Solavia Glassware and handcrafted beer from Windmill Hill Brewing Company are also available at the Aid for Ukraine shop.
The unit was given to the Leamington Polish Centre by the shopping centre to be used for free.