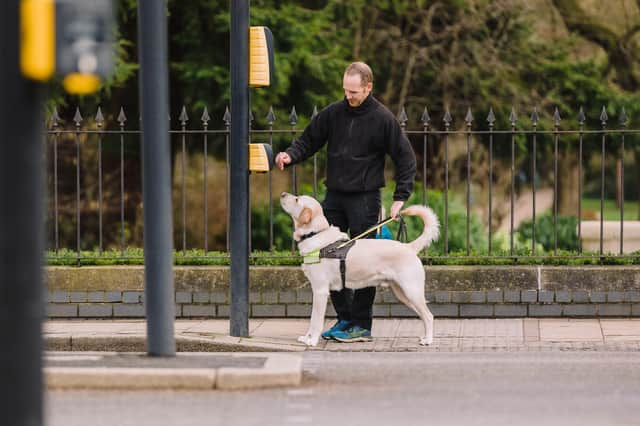 Trainers from sight loss charity Guide Dogs have put out an urgent plea asking Leamington residents to provide temporary accommodation for the dogs they train in the town.
Volunteer fosterers for Guide Dogs provide temporary homes for dogs on evenings and weekends, as they complete the latter stages of their guide dog training, with all costs covered by the charity.
The trainers based at the Guide Dogs Midlands Regional Centre, in Warwick New Road, need an extra 200 temporary homes for the dogs they are currently training.
Chris Roberts, from Whitnash, has been a guide dog trainer for nearly seven years.
He said: "We urgently need more temporary homes for our trainee guide dogs, so we can continue training these life-changing dogs for people with
"Becoming a Volunteer Fosterer for our charity is a great way to experience having a dog at home, without the full-time commitment or cost involved.
"On weekdays, we ask our fosterers to drop our dogs at our training centre in Leamington, so they can complete their specialist guide dog training, and then collect them again each evening.
"On weekends, our fosterers can enjoy the company of a wonderful dog, who will hopefully go on to change someone's life.
"If you live in Leamington, Warwick or the surrounding area and think you could help us, then please do contact us.
"We wouldn't be able to keep our guide dog service running without the support from our amazing volunteer fosterers."
Trainee guide dogs stay with volunteer fosterers for four to five months before moving on to complete the final stages of their guide dog training, where they are matched with someone living with sight loss.
The charity put out a plea for volunteers just before Christmas but had a disappointing response.
There are 18 guide dog trainers based at the charity's Leamington centre.
They are responsible for training around 90 guide dogs each year.
Kendal Yardley, of canine assisted services for Guide Dogs in the Midlands, said: "We've increased the number of guide dogs we train from our Midlands Regional Centre this year, to help reduce our waiting times for a guide dog, so this has made our need for temporary homes even greater.
"Our trainers urgently need new volunteers to support as soon as possible.
"If you're from Leamington or the surrounding area and think you could help please do get in touch."
A guide dog begins its formal training at around 12 to 14 months old and, in normal circumstances, most dogs qualify as working guide dogs by the age of two.
Volunteer fosterers usually care for dogs that are between 14 and 24 months old.
Dogs would need to be dropped off at the charity's Midlands Regional Centre between 7.30am and 9am on weekday mornings and
collected between 5pm and 5.50pm on weekday evenings.
To enquire about volunteering contact co-ordinator Melanie Brown via [email protected] or call 0800 781 1444.