Warwick care home staff duo take to the skies for charity
They both decided to take part in the skydive, driven by their roles in caring for residents living with Parkinson's at Berkley Care Group.
Watch more of our videos on Shots!
and live on Freeview channel 276
Visit Shots! now
Two members of the team at Warwick-based care home recently took to the skies for a charity skydive.
Tracy Barton, senior general manager at Leycester House, and Ann-Marie Baker, senior customer relations manager at Leycester and Jubilee House, which are both part of Berkley Care Group, took part in the Parkinson's UK's Skydive September last Saturday (September 16).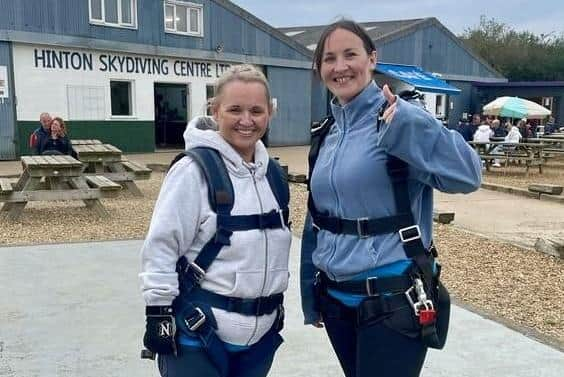 They raised more than £1,075 for Parkinson's UK.
Ann-Marie and Tracy both decided to take part in the event, driven by their roles in caring for residents living with Parkinson's at Berkley Care Group.
Tracy has worked in care for 25 years and wanted to do something more impactful than a cake sale.
Not only has she cared for residents at the home with Parkinson's but has also seen several people outside of work whose lives have been affected by the disease.
Meanwhile, Ann-Marie has worked in the care sector for over eight years and was motivated to participate in the skydive due to the interactions she has had with resident's and their families living with the condition.
She also wanted to push herself out of her comfort zone whilst ensuring it would be something other people could benefit from.
Tracy said: "Parkinson's is the fastest growing neurological condition in the world, and the second most common neurodegenerative condition after Alzheimer's.
"It is such a debilitating condition, leaving people feeling powerless as they notice their abilities being stolen from them bit by bit.
"If I can play just a small role in supporting the research into the condition, then I will feel that I have helped in some way.
"Ann-Marie and I are very proud to have raised over £1,000 for Parkinson's UK. Whilst we work alongside residents who are living with the condition every day.
"It felt great to also be able to raise money for a charity that helps to support those affected by the disease and funds research projects."
Ann-Marie added: "Living with Parkinson's is not only heart-breaking for the individual but also for their relatives as they watch their loved one's illness slowly progress and reduce their quality of life.
"There is one resident that melted my heart, he spent many years taking care of his ill wife only to be diagnosed with Parkinsons shortly after losing her.
"I am sure there are many similar stories to this one and I wanted to support the research for a cure.
"I would recommend a charity skydive to anyone looking to raise money for a cause close to your heart whilst being able to push yourself out of your comfort zone.
"The exhilaration and pride you feel outweighs the fear!"