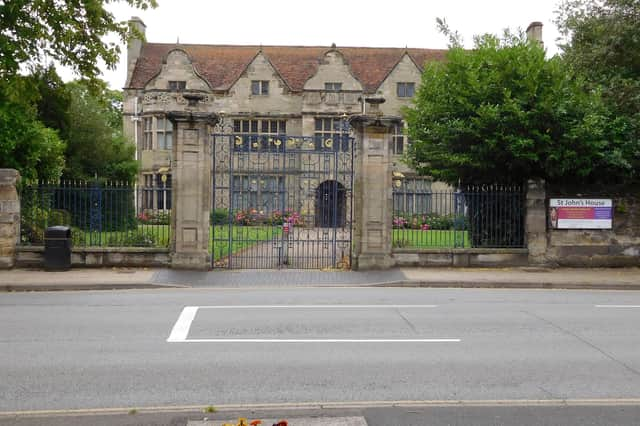 St Johns House in Warwick, which has housed the Fusiliers Museum for more than 60 years. Photo supplied by Chair of Trustees Retired Lieutenant Colonel John Rice
St John's House was the site for The Fusiliers Museum, which tells the story of the Royal Warwickshire Regiment and its successor the Royal Regiment of Fusiliers.
Now the museum now enters a period in limbo pending completion of work at its new site in Pageant House in Jury Street in the centre of town, which is planned to open in the late Autumn.
Pageant House in Warwick town centre, which will be the new home of the Fusiliers Museum. Photo by Warwick Courier
The museum and the Regiment's Home Headquarters were originally located at The Royal Warwickshire Regiment HQ and training depot at Budbrooke Barracks, now the site of the village of Hampton Magna.
The depot was closed in the late 1950s as part of the reorganisation of the infantry and the Regiment needed to find a new site for their domestic HQ and museum, preferably in their county town.
Coincidentally at the same time the county council was seeking museum space and it came to pass that St John's House became available.
The Regiment contributed £2,500 to the £10,000 purchase price and so St John's House became the centre of gravity for The Regiment in Warwickshire and, when it came into being, The West Midlands.
This situation will continue at Pageant House where the museum will form part of The Fusiliers' regimental footprint in one of its main recruiting areas.
Chair of Trustees Retired Lieutenant Colonel John Rice said: "Although St John's House has served the Regiment well for over 60 years, times change.
"With the loss of MoD funding in 2017, the cost of remaining in St John's House was not sustainable and when the district council offered space at Pageant House, the Trustees saw an opportunity to locate the museum to the centre of Warwick.
"This placed us on the tourist trail while at the same time reducing our overhead costs.
"We look forward to welcoming visitors to our new vibrant museum which brings our story up to date to include Northern Ireland, Kosovo and Afghanistan.
"With our comrades at the Queens Royal Hussars Museum and the Warwickshire Yeomanry Museum, we believe it is important, as part of the county's history, to continue to tell the story of Warwickshire men who fought for their country and in many cases paid the ultimate sacrifice."