Warwickshire residents urges council to 'stop investing in climate crisis' at demonstration in Warwick
A group of residents from across Warwickshire gathered in Warwick last month to raise awareness about fuel poverty and the use of fossil fuels and to urge the county council to 'stop investing in the climate crisis'.
Watch more of our videos on Shots!
and live on Freeview channel 276
Visit Shots! now
On March 24, supporters of the Warwickshire Climate Alliance staged a 'tug of war' between 'Big Oil' and Warwickshire residents who are facing with massive energy bills in spite of record profits being made by fossil fuel producers.
Groups across Britain joined the "Divest from Crisis" Day of Action to 'urge councils, pension funds and financial institutions to take action and address the crises of fuel poverty, climate breakdown, and energy security, by divesting from fossil fuels'.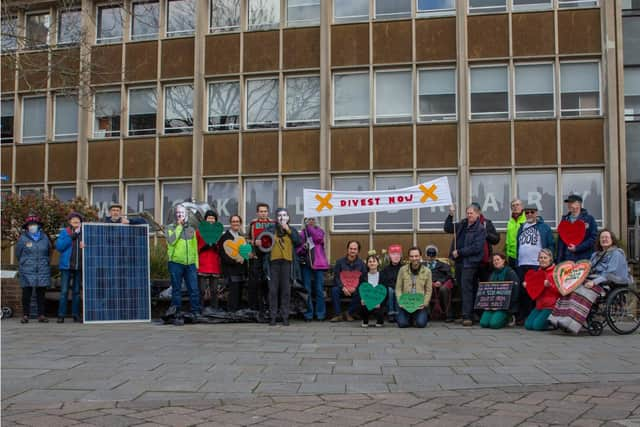 A spokesperson from Warwickshire Climate Alliance said: "Despite declaring a climate emergency, Warwickshire County Council is still estimated to have £94 million invested in planet-wrecking fossil fuels through its local government pension fund.
"Over 1,300 emails have already been sent by Warwickshire residents to the five county councillors on the Pension Fund Investment Sub-Committee, asking them to stop investing in harmful oil and gas producers."
On the day, campaigners also delivered a letter to representatives of Warwickshire County Council stating that 'the pension fund's £94 million is at risk in the long-term because of the energy transition'.
The spokesperson added: "18 local government pension funds in the UK have already made full or partial divestment commitments, and Warwick District Council has divested from oil and gas as part of its Climate Action Plan.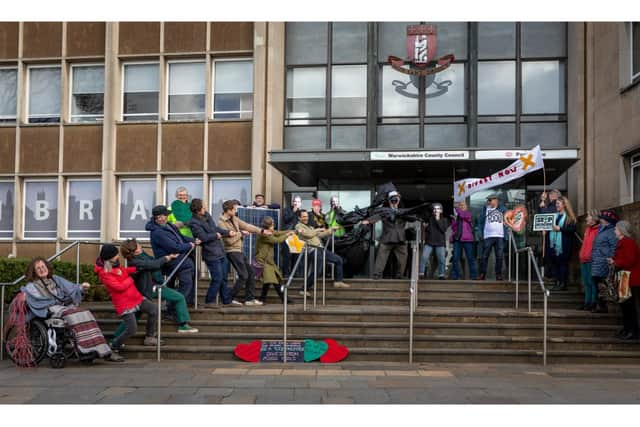 "Warwickshire Climate Alliance hopes that county councillors will soon decide to take swift action to protect the environment and support the pensioners of the future by investing in the green economy."
Responding to the group, Rob Powell, strategic director for resources at Warwickshire County Council said: "Warwickshire County Council would like to thank Warwickshire Climate Alliance for submitting their petition asking us to divest the Warwickshire fund of the Local Government Pension Scheme from fossil fuels.
"We appreciate the effort and dedication of this group in raising awareness about the urgent need to address climate change and the wide variety of action that we all need to take to do this.
"The Warwickshire Pension Fund is part of the Local Government Pension Scheme, and has c.50,000 members from c.200 employers, including the five Warwickshire district and borough councils.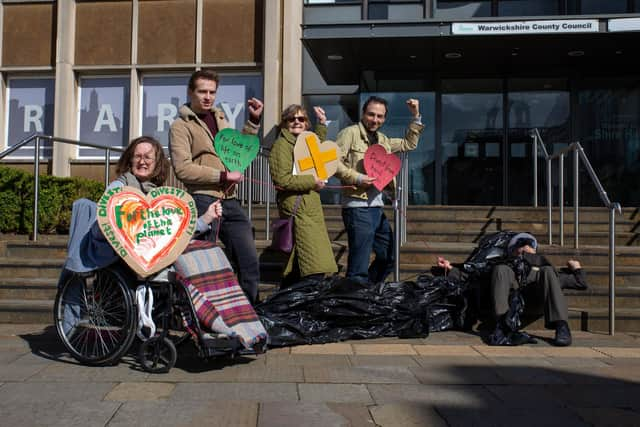 "The Fund has £2.7bn in assets, of which only three percent relates to fossil fuels.
"The overriding purpose of the Warwickshire Scheme Fund is to ensure it has sufficient assets and income to provide for the pensions of those members now and well into the future.
"Our Pension Fund Investment Sub-Committee oversees the Fund's investment strategy and operation and recognises that climate change is a major driver for our investment strategy, alongside the overarching fiduciary duty to fund future pension liabilities for our members.
"There are circumstances where divestment or exclusion are appropriate, but we also believe that using our considerable investing power to successfully engage companies to accelerate their net zero transition plans is critical to prevent further global warming.
"Engagement allows us to put direct pressure on companies to change their practices and invest in more sustainable solutions, and this is complemented by the ability to divest where engagement is not working.
"Warwickshire County Council is committed to sustainability and taking action on climate change.
"We also believe that it is important to engage with our local communities on issues related to sustainability and climate change, and so we welcome the ongoing dialogue with Warwickshire Climate Alliance and other stakeholders as we continue to evaluate our investment portfolio and further develop our Sustainable Futures Strategy."