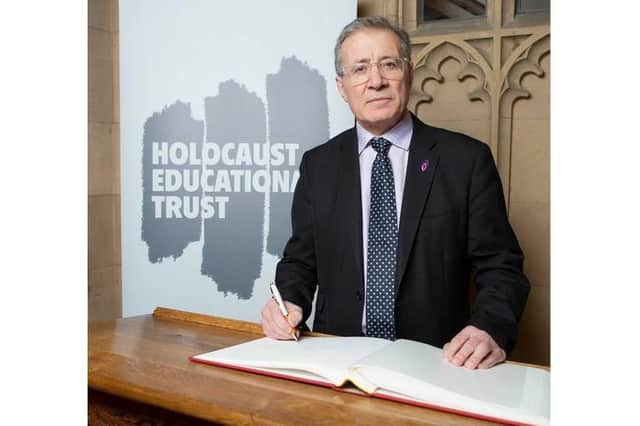 In doing so, he pledged his support for Holocaust Memorial Day, which honours those who were murdered during the Holocaust and pays tribute to the extraordinary survivors who work to educate young people today.
Holocaust Memorial Day falls on January 27 every year, commemorating the anniversary of the liberation of Auschwitz-Birkenau in 1945.
In his time as MP, Mr Pawsey has travelled to Auschwitz-Birkenau to see the site and has spoken about how important it is to remember what happened there. Through the Conservative Party's Project Umubano, he has also spent time in Rwanda working with survivors of the genocide that took place there in 1994.
Speaking after signing the Book of Commitment, he said: "It is now nearly 80 years since the abhorrent actions of the Holocaust took place and sadly, it is more important than ever that we ensure we remember the victims and continue to make the promise: Never again.
"Holocaust Memorial Day is an opportunity for all of us to take a moment to remember the six million Jewish men, women and children, as well as the many thousands of Roma and Sinti people, disabled people, gay men and other opponents of the Nazis."
And he added: "We must also remember the other victims of genocides since the Holocaust, and I have seen for myself the scars that the Rwandan genocide inflicted on the population there. However, I have also seen the determination of those who survived these atrocities to rebuild their lives and communities."
Chief executive of the trust, Karen Pollock, added: "On Holocaust Memorial Day we remember the six million men, women and children who were murdered by the Nazis and their collaborators, simply for being Jewish, and we pay tribute to the incredible survivors, many of whom still share their testimony, day in and day out, to ensure that future generations never forget the horrors of the past.
"We also remember that antisemitism did not start or end with the Holocaust, we must all be vigilant, and speak out whenever it is found."