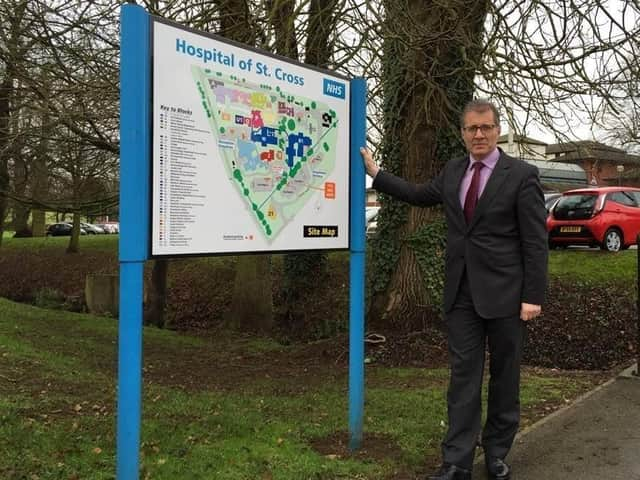 Rugby MP Mark Pawsey spoke yesterday, June 17, in parliament to echo the calls of residents for an A&E to return to St Cross in light of Rugby's rapid growth.
He said: "In Rugby, we are providing new homes 25 per cent faster than the rate in the country as a whole.
"The consequence of all those extra residents is that 83 per cent of people now live more than 15 minutes' drive of a major accident and emergency unit.
"The residents of Rugby have time after time expressed a firm wish for that service to be provided at our local Hospital of St Cross.
"NHS commissioning has already been raised this morning, so I wonder whether any debate could also consider how population changes should drive the provision of NHS services."
Commons leader Jacob Rees-Mogg replied to Mr Pawsey, stating there will be 'plenty of opportunity' to discuss funding but said that in the meantime the trustwhich runs St Cross recently received £2.2m to tackle a maintenance backlog at the hospital.
He said: "I will certainly raise that with health ministers on behalf of my hon. friend, and there was a health Bill referred to in the Queen's Speech, so there will be an opportunity to debate these issues at length in due course.
"The health infrastructure plan will deliver a long-term rolling programme of spending in health and infrastructure, including district hospitals.
"These hospitals have benefited from our £600 million critical infrastructure risk fund and our £450 million spending to upgrade A&Es.
"University Hospital Coventry and Warwickshire NHS Trust has received £2.2 million from the critical infrastructure risk fund to address the maintenance backlog at St Cross and £3 million for an emergency department expansion, as part of the A&E upgrades investment, so there is a recognition that there are population pressures, and spending does seem to be following accordingly."
In May Mr Pawsey issued a statement explaining he had written to the head of the Coventry and Warwickshire Clinical Commissioning Group to call for a return of an A&E to St Cross.
In his letter, he has highlighted that when the decision was taken in the late 1990s to downgrade the accident and emergency service at St Cross, it was argued by the NHS that Rugby was not large enough to provide sufficient opportunities for clinicians to maintain their services.
However, the Mr Pawsey pointed out that the town has grown and will continue to grow in the coming years - and that other similar sized towns have A&E services.
At the time, the clinical commissioning group was holding a survey whereby Rugbeians could submit their views on what clinical services were needed in the town.
But the survey was not publicised to much extent - resulting in both Mr Pawsey's office and the press only learning of it days before its June 1 end date.