Most bizarre items left at Travelodges - lifesize cut out of Jurgen Klopp & 500 scratchcards among finds
Travelodge reveals the most bizarre items left at their hotels in 2022 including a lifesize cut out of Jurgen Klopp and an oil painting of Queen Elizabeth II
Watch more of our videos on Shots!
and live on Freeview channel 276
Visit Shots! now
Travelodge has revealed some of the more interesting items left behind at their hotels during 2022. Across their 580 UK locations in the UK, the company  welcomes around 19 million guests a year.
As well as the more bizarre  pieces left behind, Travelodge also revealed the most common items found. These include chargers, smart watches, books, jewellery and more.
Travelodge spokesperson, Shakila Ahmed, said: "With nearly 19 million customers annually staying at our 580 UK Travelodge hotels, for thousands of different reasons, we do get a range of interesting items left behind.
"During 2022, this included a portfolio of tattoo artwork, a three metre Longwu Chinese dragon, a replica of Queen Elizabeth's state imperial crown, a pair of Segways, an LFC wedding cake and a pair of Japanese Chin puppies called JLo and Ben."
"Interestingly the 2022 lost and found audit also revealed that we are a nation striving for a healthy lifestyle as we have seen a significant rise in smart watches being left behind in our Travelodge hotels during the last 12 months.
"When it comes to why so many of our customers forget their treasured items, it's basically due to us all being time poor, juggling multiple tasks and being in a hurry to get from A to B. In the rush, valuable possessions are easily forgotten."
Bizarre items left at Travelodge hotels in 2022
A portfolio of tattoo artwork by a famous New York tattoo artist - Gatwick Airport Travelodge
A box of 500 National Lottery scratchcard wedding favours  - Newcastle Central Travelodge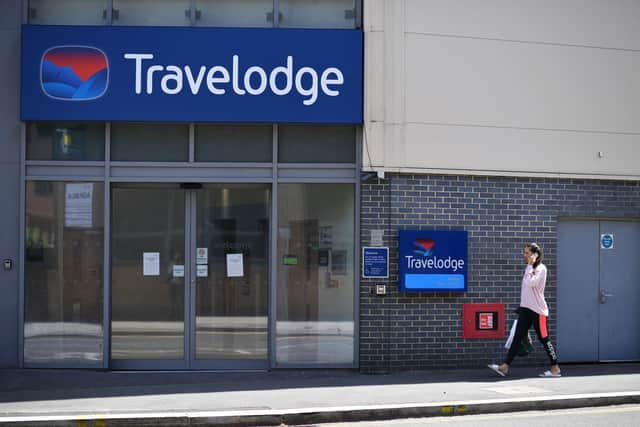 Keys to a Sunseeker Hawk 38 Power Boat - Torquay Travelodge
A Hong Bao (Chinese wedding envelope) containing 10,000 Chinese Yuan - Hull Central Travelodge
A life size cut-out of Jurgen Klopp - Liverpool Exchange Street Travelodge
A pair of Segway's decorated in roses - Derby Cricket Ground Travelodge -
A Queen Elizabeth II Platinum Jubilee doll - London Central Waterloo Travelodge
A LEGO Technic Ferrari 488 GTE - Leeds Central Travelodge
A sleigh full of Christmas presents - Aberdeen Travelodge
A 5ft Chinese temple birdhouse  - Bournemouth Travelodge
A Déesse Pro LED Phototherapy mask - London Central Covent Garden Travelodge
A LFC (Liverpool Football Club) themed five tier wedding cake - Liverpool Central The Strand Travelodge
A box of personalised Viennese snow globes - Canterbury Chaucer Central Travelodge
An oil painting of Queen Elizabeth II - Windsor Travelodge
A jewelled treasure chest full of Indian Mithai sweets - Rugby Travelodge
An Oxygen Tank - Manchester Upper Brook Street Travelodge
Personalised 'John' number plate worth £15,000 - Woking Central Travelodge
A large Longwu Chinese dragon - Manchester Piccadilly Travelodge
Replica of Queen Elizabeth II State Imperial Crown - London Central Kings Cross Travelodge
A ball gown made from the 54 Commonwealth country flags - Birmingham Bullring Travelodge
A 4ft light up Earth  - Plymouth Travelodge
A 50 year old Paddington Bear - London Central Euston Travelodge
£250,000 worth of share certificates - London Central Bank Travelodge
A private pilot's licence - London Heathrow Heston M4 Westbound Travelodge
A barristers wig and gown - London Central Covent Garden Travelodge
An album detailing the life of Queen Elizabeth 11 from princess too Queen via photographs - Milton Keynes at The Hub Travelodge
Framed wedding vows from 1946  - Blackpool South Shore Travelodge
A pair of Japanese Chin puppies called JLo & Ben  - Bath Central Travelodge
A union jack printed saree - Solihull Travelodge
A five generation family cookbook heirloom - Norwich Riverside Travelodge
A suitcase full of Queen Elizabeth II Platinum Jubilee memorabilia  - Watford Travelodge