'Small handful of difficult members of public' criticised for Thor the Walrus conduct in Scarborough
The charity revealed that one person was even caught breaking a police cordon and trespassing onto private property to take pictures of the walrus.
Watch more of our videos on Shots!
and live on Freeview channel 276
Visit Shots! now
New Year's Eve fireworks were cancelled and police were called to cordon off the area where the celebrity walrus had decided to take a rest during his trip back to the Arctic. Animal welfare charities monitored the adolescent male on the slipway as visitors travelled from across the country - and even as far away as France - to take photos.
It was the first time in living memory the species had visited Yorkshire and Thor is believed to have travelled 3,000 miles via Canada, France and the Netherlands. Thor left Yorkshire to return to his Arctic home on Saturday afternoon (December 31) after spending the weekend delighting local residents and tourists.
But an incident report by the British Divers Marine Life Rescue, whose volunteers monitored Thor, has now revealed poor behaviour by some of those in attendance. They revealed one person was caught breaking the police cordon and trespassing onto private property to photograph the walrus.
Thor was also disturbed by loud cars being driven along the seafront with flashing lights and there were also reports of general crowd control and traffic difficulties. The BDMLR said 'several thousand' people - including coach parties - descended on the town and the crowd was never less than 300 deep.
The report stated: "At 11.30pm on 30 December, Scarborough Sealife reported to BDMLR that a walrus was hauled out at Scarborough.The initial response was 'are you joking?!'
"Understandably the unusual visitor attracted attention and the Police Response Sergeant could not do enough to facilitate Thor being kept safe, including being immediately contactable should their help be needed. Scarborough Police officers and PCSOs were on regular patrol throughout the entire response and their help included having to deal with a small handful of difficult members of the public, and one person breaking cordon and entering private property attempting to access the Walrus for photographs.
"Thor demonstrated some natural male behaviour over the evening and decided after a few hours that his rest against the wooden structure in the middle of the harbour slipway had come to an end, he made his way down the slope.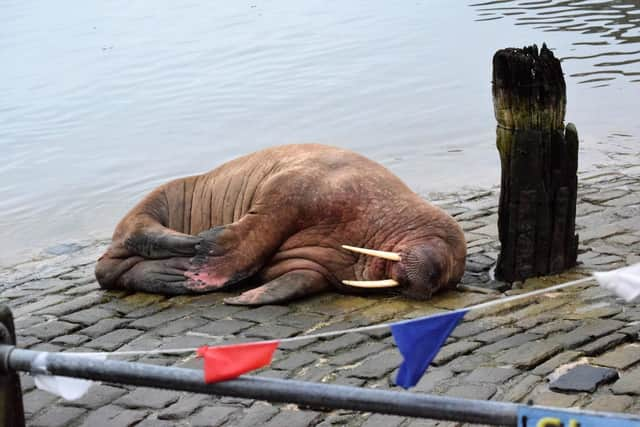 "We hoped that he would swim off out of the harbour and his visit would be one of almost disbelief and mostly rumour by the morning. Instead, he got himself comfortable and fell asleep again."
The charity said large numbers gathered throughout the following day as news of his arrival spread and praised the behaviour of the majority of people.  The report added: "More public arrived, most noticed to be taking photos and standing in disbelief – presumably floored by seeing a Walrus.
"At all times the crowd was at least 350 thick, at one point seemingly over 500 people were there with more bodies continually appearing from all avenues, roads, and even bus trips. It is estimated several thousand people were in attendance over the whole day though likely far more.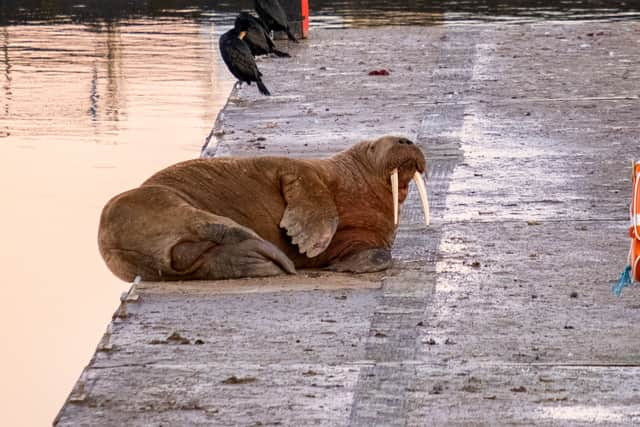 "Thor continued to sleep, having an occasional reposition and brief look around. It was noticed during the night that he was agitated by a few noisy vehicles passing with bright lights. This led us to consider the New Years Eve firework display due to be held in close proximity to Thor's location, and the New Year's Day annual dip.
"BDMLR HQ spoke with the local council and liaison officers who explained the situation regarding fireworks to all council members who without reservation agreed the firework display would likely cause stress and alarm to the Walrus, and therefore was cancelled without hesitation. This was an incredible step forward for animal welfare which has been tremendously backed by the public, official parties, and the media.
"Thor, who continued to sleep throughout the day, was now being reported far and wide, which attracted visitors from other ends of the country and one family from France. A cordon had to be moved back due to increasing numbers of public pushing forward on an unbarriered section of walkway and were filling the road which caused concern for public safety.
"Sadly this meant some members of the public continued to stand in the road, so the cordon was later repositioned again by North Yorkshire Police to try and establish a safer environment for all. The crowd slightly lessened as the rain returned, though there were a solid 300+ people at all times."
Thor made his return to the sea to cheers from members of the public at around 4.30pm on New Year's Eve. The report stated: "By 4pm Thor was becoming slightly more active, and at 4.30pm he sat up, turned around, and promptly slid off into the harbour.
"A cheer erupted from the crowd, while BDMLR Medics scrambled with radios to track which direction he went. This was assisted by some local youngsters who saw him swimming, and we confirmed that he had swam off out of the harbour.
"BDMLR would like to extend their immense gratitude to everybody involved. Their positive actions have been an enormous achievement and hopefully will pave the way for such a response should it be needed again."
Humberside Police Sergeant Jenna Jones said: "Having started Operation Seabird on the Yorkshire Coast to prevent disturbances to our seabirds and marine mammals it was an unbelievable privilege to support colleagues and volunteers ensuring Thor was healthy and undisturbed. I thank the public for keeping your distance and all your questions. You certainly tested my walrus knowledge.
"In 2023 I look forward to continuing to work in partnership with BDMLR for the benefit of our marine wildlife."