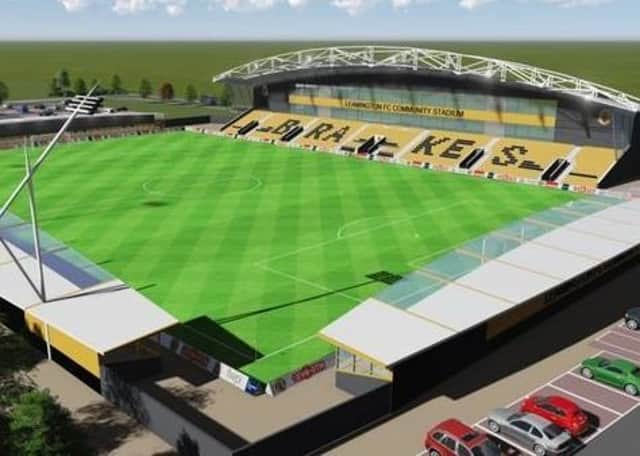 How Leamington's new stadium could look
And football consultant Mark Fogarty sees no reason Brakes cannot follow the example of his previous club, Solihull Moors, and target a place in the Football League.
Formerly sporting director at Moors where he also spent four-and-a-half years as community and academy manager, Fogarty joined Leamington in July with a remit to assist the club further develop its football pathways and build upon its community activities.
One of his first successes was establishing a post-16 full-time male Football Academy with education programme in partnership with Moreton Morrell College. Trials are currently ongoing under the watchful eyes of head coach Kieran Dunbar and assistant coach Kaiman Anderson with the target of doubling provision for the 2020/21 season.
"We've got a post-16 Academy at Moreton Morrell but the partnership had not really been sealed - one of the main people had left," explains Fogarty.
"The kids didn't know if there was going to be an academy.
"Now we've got a very professionally run Academy with 23 on it and another 20 who came on trial the other Monday and we are looking at running at least two teams.
"It's a hard sell where it is based but we have been working hard, going to careers fairs and open days to generate interest to help increase the quality and numbers.
"We've got first team players running the course and that helps the players get a feel for the club."
Allied to the success of the male Academy and again in partnership with Moreton Morrell College, Leamington are also looking to introduce the very first Women's full-time Academy which will run alongside the men's set-up and link in with the club's ladies' first team, although Fogarty admits the progress on this is "proving a little slower". However, they do have five interested girls.
One criticism of Brakes Fogarty is keen to address is the lack of young talent progressing through the ranks to the first team.
The club have recently appointed experienced UEFA A licence coach Chris Knott, pictured, as head of youth development, overseeing an Academy for seven to 16-year-olds at the University of Warwick with the aim of developing the best talent in the area.
However, Fogarty admits there needs to be a workable pathway from the academy to National League football.
"It is something we need to address. We want to get a Floodlit team and an open-age reserve side. It means 17-18 year-olds can go into men's football because at the moment it is too big a gap to bridge."
A UEFA A licence coach, Fogarty boasts an extensive CV in both non-league and professional football which has included spells as a coach, scout and head of recruitment.
However, it is the launch of Brakes' new Pan Disability Football Centre which is closest to his heart after his son Charlie, a promising young footballer, suffered a severe brain injury.
Charlie was hit by an overtaking car while crossing a road and spent 11 days in an induced coma and four months on a neurosurgical ward.
He had to learn to walk, talk and feed himself again but has since gone on to appear in two Cerebral Palsy World Cups, coaches at Solihull Moors and is an in-demand motivational speaker.
"It's where my passion is," says Fogarty.
"My son got a brain injury, he got hit by a car and it is where I started at Solihull Moors, eventually getting up to seven teams.
"We don't call it a disability, we call it ability counts."
Charlie, who was awarded an MBE for his services to young people, will be on hand, along with England Cerebral Palsy captain Jack Rutter to open Leamington's new centre at Warwick's Aylesford School on Saturday March 14.
The sessions will then run every Saturday from 10.30am until noon and will cater for anyone aged seven to open age that have cerebral palsy, acquired brain injuries, autism or learning difficulties.
Fogarty is not resting on his laurels as he continue to increase Brakes' visibility across the community, with further sporting schemes in the pipeline, not just confined to football.
"We've got £40,000 in applications for different funding bodies so we can get into a further ten schools," he says.
"These activities are fitness related and range from pre-school, school hours or after-school with an option for female-only sessions in both primary and secondary schools."
While Fogarty continues to take the club forward on and off the pitch, he says the impact of the new community stadium north of Gallows Hill, slated for 2022, cannot be underestimated.
"It will be a complete game-changer for the club. With the new site I believe we can look at being a Football League club.
"At Solihull Moors we were getting 150 and six years later we were getting 1,500 and I've no doubt they will go on to the Football League.
"I've been working with some really good people at Leamington who do a lot of work voluntarily and I'd love to help make it happen for them."